Sharing our holiday traditions
The rich and distinctive heritage of our destinations means that there's a wealth of holiday traditions to explore: festive foods, fiery celebrations, musical gatherings, and so much more. We love our destinations any time of year, but the holidays are a great time to recognize how special and distinctive these places are. Let's take a look at just some of the ways that the locals might be celebrating this year, from Iceland to Ireland and Britain to Italy.
Ireland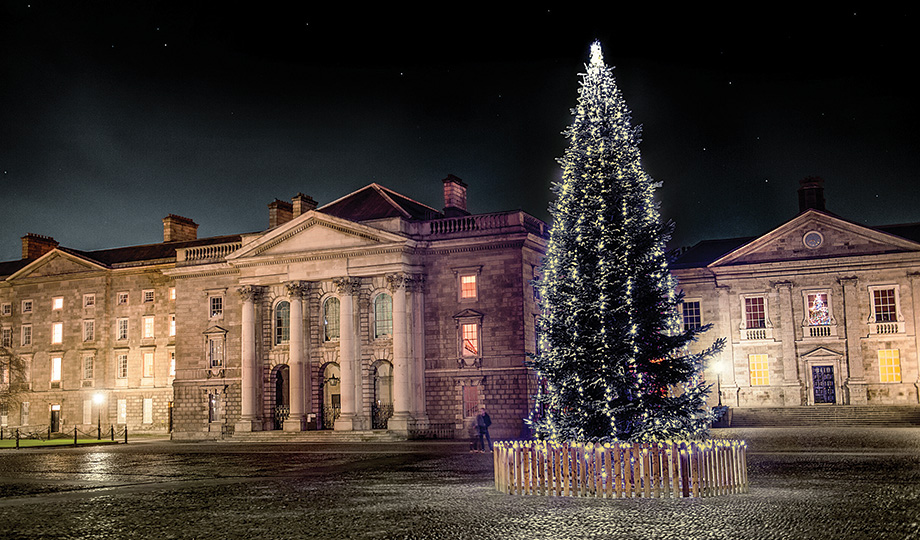 "The holly green, the ivy green, the prettiest picture you've ever seen." That's Bing Crosby singing his classic about Christmas in Killarney, and the festivities in Ireland today still live up to the song. All the cities, towns, and villages are festooned with lights and greenery, usually starting in November. One beloved old Irish tradition is to put a single candle in the window, which legend says is a sign to any travelers that they could rest there for the night, in remembrance of Jesus and Mary seeking shelter before the birth of Jesus.  Santa Claus makes a visit, and he's often treated to mince pies and a pint of Guinness, left out before the family goes to bed.
The day after Christmas is another holiday, called St Stephen's Day. It's often a day for spending with friends and family, sometimes engaging in an activity like walking to recharge. In some areas, it's a day to "bury the wren" - an old Irish tradition. Groups of Irish boys used to dress up in straw hats that covered the faces, and would go from door to door, singing a song with the chorus: "Up with the kettle and down with the pan, and give us a penny to bury the wren"? 
England
Christmas in England is rich in tradition, with much of it revolving around the food. The central celebration is Christmas dinner, a feast for a king. There's usually roast turkey or a goose, an assortment of vegetables and potatoes, and cranberry sauce. Then for dessert there's usually a rich fruitcake, mince pies, a Christmas pudding, and a cheeseboard. The dinner is merry, and a highlight is the pulling of the Christmas crackers – cardboard tubes wrapped in paper containing a paper crown (which must be donned for the rest of dinner), a joke, and a small toy. The Christmas cracker was invented in the mid-19th century by a London confectioner, who was inspired by a French custom of wrapping treats in twisted tissue paper. When he added the tiny bit of an explosive called silver fulminate so the cracker would snap when it was pulled, it became an instant classic.  
Another eagerly awaited tradition is the Queen's Speech, televised to the nation since George V's Christmas broadcast in 1932, where the Queen wishes the nation well and reflects on the year. Boxing Day is the day after Christmas – traditionally the day that servants got a day off, they'd receive a Christmas box from their employers, which they would open with their families at home.
Wales
On a Christmas Eve in Wales you might find yourself boiling taffy on the open fire. It was customary to drop dollops of the taffy into cold water, and watching for letters as the taffy curled itself into various shapes – tradition said this would be the initials of one's future love. After the taffy-making, it would be time for the church service, known as "Plygain", from three to six o'clock in the morning. The entire church would be lit by candles, and the men of the congregation would sing for hours.
Another traditional ritual is called "Mari Lwyd", where revelers would decorate a horse skull with bells and bring it about from house to house, asking in rhyme to be admitted to the house. It would only be admitted after a contest of verse between the owner and the Mari Lwyd. Once inside, there would be much merriment until food and drink was offered.
Scotland
Scotland's Christmas traditions are probably most notable in that for centuries, they were banned altogether! Christmas was once a religious feast day, as in neighboring countries. But as tensions grew after the Reformation, Scottish Parliament passed a law in 1640 to make celebrating Christmas illegal - and it wasn't until 1958 that it became a public holiday.
Today Christmas is celebrated as it is throughout Britain. Some of the oldest traditions involve fire: one tradition is to burn a rowan twig as a way to heal rifts between family and friends. People will also burn the Yule log, in a tradition dating to Viking times; those around the fire when this special log is burning are promised a year of protection and prosperity. To keep evil spirits away, Scottish people traditionally carved a stick into the shape of the Cailleach, or  the "Old Woman Winter", tossing it on the fire to represent the destruction of winter. And in Edinburgh there's a traditional torch-lit parade throughout the city on December 30 - kicking off Hogmanay, the New Year's celebration for which Scotland is famed. 
Italy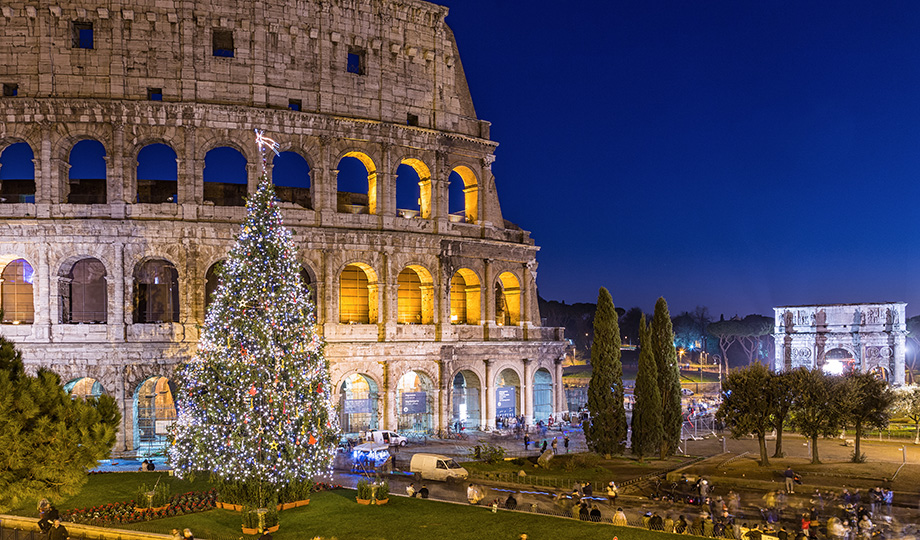 Christmas in Italy begins on December 8 and runs through January 6. There are lights galore, and in most Italian homes there will be a nativity scene, with a wooden frame housing figurines depicting the birth of Jesus and also containing candy, fruit, and small gifts. Children enjoy gifts brought by a variety of characters throughout the entire season, depending on where they live. There's Gesu Bambino, the Christ Child, and St Lucia. The most interesting of all is La Befana, a good witch who rides on her broomstick, leaving toys and candies for children on Epiphany.
The Christmas Eve dinner is usually fish and pasta, sometimes with multiple courses of seafood. People in Rome might visit the Vatican for midnight mass with the pope, spilling out from the basilica to the big screens in St Peter's Square. Then on Christmas Day, the emphasis is on family and feasting. There are many sweets to enjoy, such as fruit-filled panettone and buttery pandoro, sweet breads you can often find outside of Italy. Each region has its own delicacies, with Romans eating spiced nut pastries called mostaccioli and in Siena they eat cavallucci, chewy, spicy cookies originally imprinted with the image of a horse.
Iceland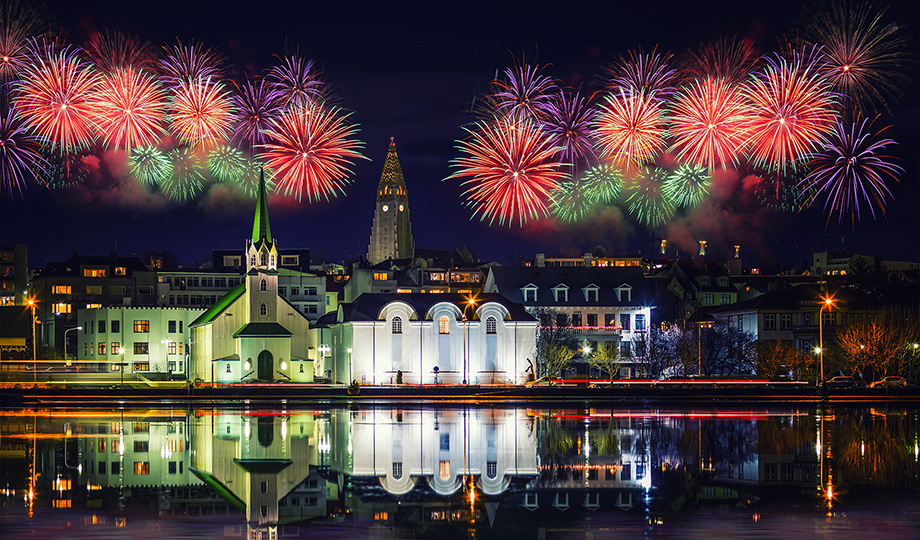 Christmas is a festive time in Iceland, with the holiday hubbub starting with Advent, which begins four Sundays before the big day. In December it's dark most of the time in Iceland, but festive lights are popular and add a magical air. In the days leading up to Christmas, children get nightly visits from one of 13 Yule Lads, mischievous elfin creatures from Icelandic folklore who have evolved into a version of Santa Claus.
The main celebration for Christmas occurs at 6 pm on Christmas Eve, when people gather for dinner with their families and open their presents.  The present usually includes at least one book, as literature is a national obsession, and after dinner those who don't go to Midnight Mass will often start their reading. Christmas Day is a time for relaxing with family, continuing the feasting, watching films and playing games, and then the next day is similar, with people often going to cafes or bars to meet friends.
Wherever and whatever you're celebrating in this festive season, we at CIE Tours wish you the happiest of holidays - and we're hoping to see you in 2022!