Insight Q&A: The Clappy Doo Ceilidh Band
These Scottish musicians are a guest favorite on CIE Tours' trips to Scotland.
Many guests on our Scottish tours have enjoyed a night of traditional entertainment featuring the husband-wife duo of Graeme Munroe and Shauna Flockhart. We had a little chat with them to find out more about their shows for CIE Tours, the far-flung places they've played, and what it means for them to share their love of Scottish music. 
CIE Tours: Tell us a little bit about your band and the people in it. Where does the name "Clappy Doo" come from?
Graeme: Clappy Doo members are myself (Graeme) and my wife (Shauna) and we came up with the name in 2009. We own a shellfish farm on the Isle of Mull and a Clappy Doo is a large mussel that lives on the east and north coast of Scotland. 
CIE Tours: You put on a Scottish Night of traditional entertainment for many CIE Tours vacations, which our guests love – what kind of experience do you provide for them?
Graeme: We started entertaining CIE guests in 2003. We initially were booked for two tours and the connection that we have developed between CIE, their guests and Clappy Doo, we are now booked to entertain eight tours per week.
The show that we provide to CIE guests is a fast moving and entertaining experience that has everyone clapping hands and tapping their toes to the up beat, lively Scottish traditional music. We give a variety of music, song and as much audience participation as you like. We invite our guests onto the dance floor and show people how to ceilidh dance. We finish with a wee surprise that can have guests splitting their sides with laughter. We like to think everyone leaves our show with a smile and a memory that will last a very long time.
CIE Tours: What does it mean to you to be able to introduce so many people to Scottish music and dance?
Graeme: We are very proud of what Scotland has to offer to our visitors, between our history, beautiful scenery, architecture and of course our music and dance. We love to share our love of Scotland in our show, telling stories, singing songs and showing off the Scottish  sense of humour.
CIE Tours: Of course there are Scottish people around the world - Where are some of the interesting Scottish communities abroad you've played for?
Graeme: We are very fortunate that we are a very busy band that plays in all parts of Scotland and around the world. Clappy Doo have played several times in Singapore, Kuala Lumpur, China, Kazakhstan Dubai, Abu Dhabi and many more. Travelling to and playing in these wonderful places is an unbelievable experience with many different cultures and people of Scottish connections. It can be quite emotional when we are playing Scottish traditional music when you are thousands of miles from home.
CIE Tours: Do you have any other favorite experiences playing abroad, perhaps introducing Scottish music to people with no Scottish connections?
Graeme: There are two functions that stand out in our experience of playing overseas. The first is playing at a world festival of music in China. There were musicians from more than 60 countries, all in their national dress. We were lucky enough to represent Scotland and we played in many fantastic venues including a stadium and played live on Chinese TV. The other was playing Hogmanay (New Year) In Singapore. This was very much a multi cultural function and the 400 guests were totally amazing with the dance floor packed all evening and into the small hours.
CIE Tours: What have you learned about people with Scottish heritage from playing both in Scotland and around the world? What does the music and their heritage mean to them?
Graeme: We find that people with Scottish heritage are very proud of their connection. If they were born in Scotland or their great grandparents were from Scotland, people love to tell their stories about their heritage. Scotland has a long history with so many stories and songs that accompany them. We love to share our knowledge of our history and try to cram as much of this into our show. It is amazing having conversations with guests, the stories about their connections with Scotland and how they have traced their family tree for sometimes hundreds of years.
CIE Tours: How can people hear your music now?
Graeme: We regularly play on Radio Scotland, we have a little promotion video on YouTube and our CD has been very popular. 
For more about Clappy Doo, visit their website and follow them on Facebook - and see them on our Scottish tours!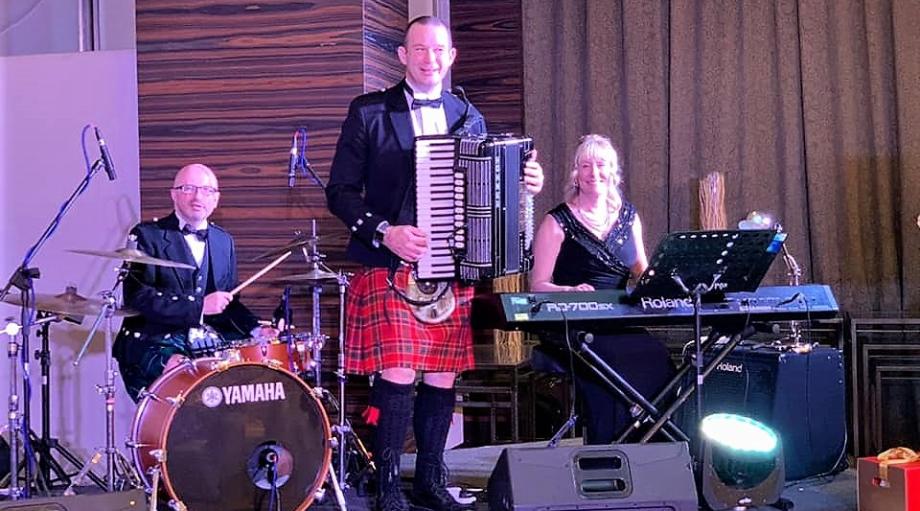 See Clappy Doo in the Scottish Evenings featured on many of our tours in Scotland!