CIE Tours: The Early Years
Rooted in Ireland, with a history of innovation
CIE Tours was founded in 1932 – and since then, the company has expanded beyond the wildest dreams of its founders: little did they know that nine decades later, CIE Tours would be a thriving U.S.-based company; and would, over the years, bring millions of travelers not only to Ireland, but also to Scotland, England, Wales, Italy and Iceland.  As CIE Tours celebrates its 90th anniversary, we are reflecting on our past – and thinking about how CIE Tours played a pivotal role in developing Ireland into a beloved tourism destination for travelers from around the world.
The early years of CIE Tours are inextricably bound up with the excitement of a burgeoning global travel industry, and even more so with the pioneering spirit of air travel. The company was perfectly placed to take advantage of exciting global developments as Ireland took an early lead as a center of innovation for commercial travel. Let's take a look at some of the landmark moments in Irish history that helped shape the future of CIE Tours, and helped to create our role as the premier tour company into Ireland and beyond.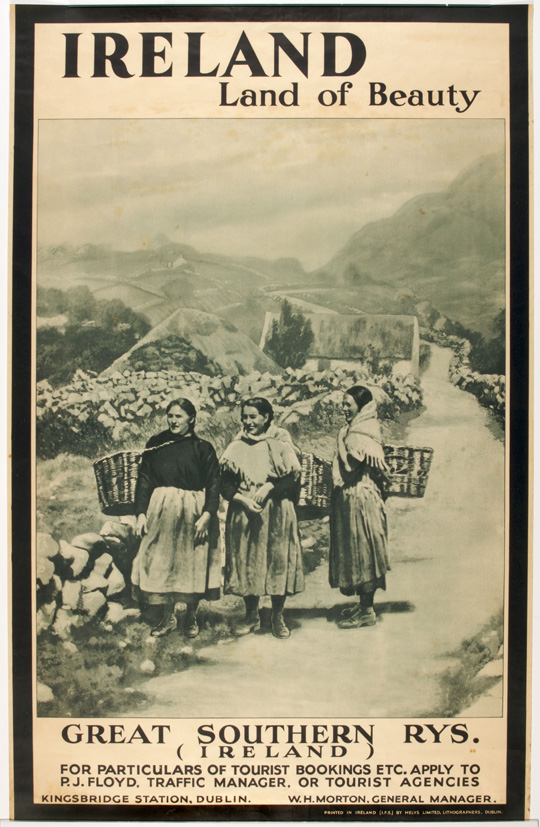 To begin, let's consider 1932: the year that the company that would become CIE Tours was born as a small division of the Great Southern Railways. 1932 was a special year in Ireland – it was the year the International Eucharistic Congress, an international Catholic festival, was held in Dublin. Ireland was chosen that year because it was the 1500th anniversary of Saint Patrick's arrival. The new nation and its three million Catholics had never seen such an event. The city of Dublin was decorated with bunting, garlands, banners, and replica round towers. There were parties to welcome visiting dignitaries, a public Mass in the Phoenix Park that attracted a quarter of Ireland's population, and a notable architect created a number of buildings that still stand today.
A new radio station was set up to broadcast the events – it would become RTE, today's national broadcaster. Journalists, commentators, and the faithful visited from around the globe. One historian has noted, "there was a sense that Ireland was on show to the world".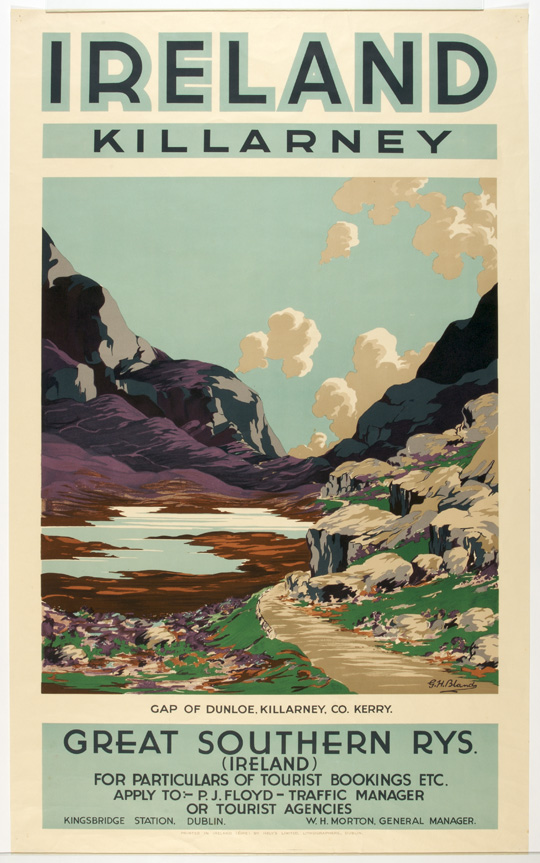 And indeed it was – there were so many visitors to Ireland for the occasion that there was an accommodation crisis. Many visiting Americans stayed aboard seven ocean liners that moored in the Dublin docks, each holding from 130 to 1,500 people each. This all lent a glamorous air to the city and a sense of excitement for its citizens. Dubliners, meanwhile, were accommodating visiting relatives and other pilgrims in their homes – the nation had even set about producing extra mattresses to enable Dubliners to accommodate them all.
Naturally, all the visitors would want to see the sights and beautiful scenery, and the Great Southern Railway was waiting to whisk this influx of tourists away with its new touring division - this was the start of CIE Tours. The railways carried eager visitors from Dublin to the most picturesque parts of the West of Ireland. At the time, the railway companies of Ireland owned luxurious hotels – some of which our tours still visit today.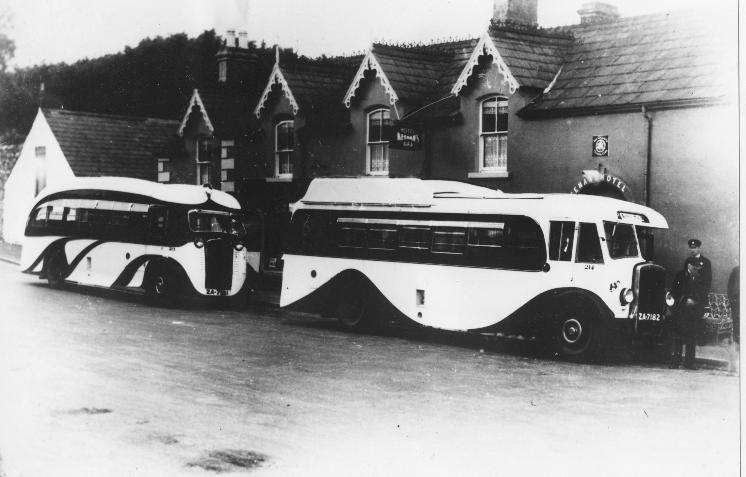 But the real future of transportation within Ireland was in nimble buses, not rail – and the Great Southern Railway took a major step in this direction in 1934, when it acquired the Irish Omnibus Company and its fleet of buses. These buses meant visitors could be easily taken to the country's attractions, no matter how far off the rail line. The buses could easily take visitors away from their entry ports to the hotels, and then on to the Ring of Kerry or the wilds of Connemara.
While early visitors arrived by boats from England or ocean liners from the US., it was becoming clear in the 1930s that air travel would be the true foundation of Ireland's tourism industry, in part because of its proximity to the U.S. as an entry point to Western Europe. In 1936, aviation pioneer Charles Lindbergh brought Irish politician Éamon de Valera, soon to be Taoiseach (Prime Minister), on his very first flight. They circled above the island, accompanied by two executives from Pan American Airways. It was the New York-born Irish politician's first glimpse of Ireland from above. Mr. de Valera would later quote Mr. Lindbergh as saying "In any development of transatlantic travel, Ireland holds the key."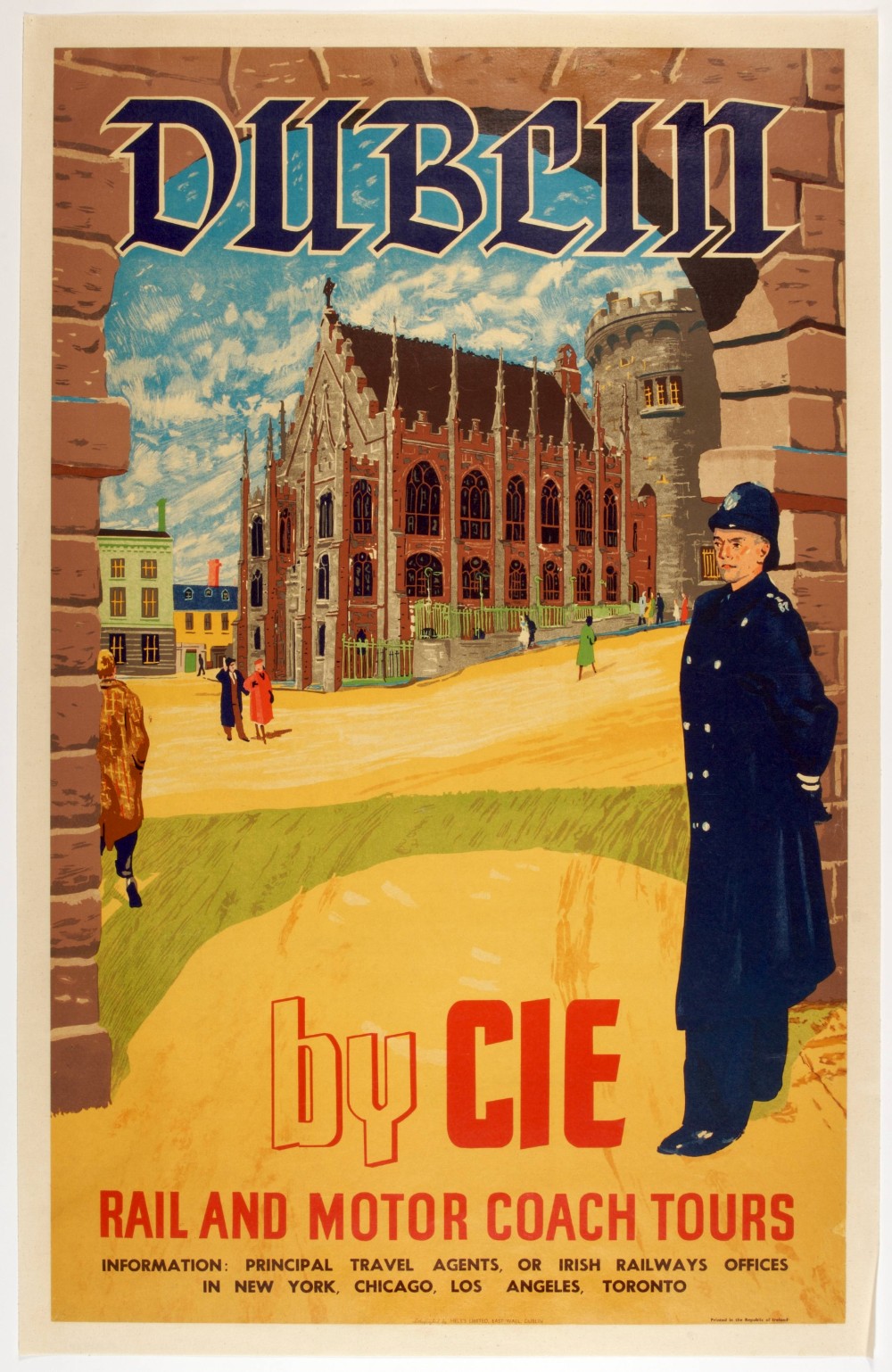 It was in 1945 that Córas Iompair Éireann (CIÉ) was founded, uniting the Great Southern Railways with the Dublin United Tramway Company. The name means "Irish Transport Service" in the Irish language. CIÉ began its operations on 1st January 1945 as a private company with shares traded on the Dublin stock exchange. In 1950, the Irish government introduced a law to transform CIÉ into a semi-state body, and for the next decade or two, the company upgraded and modernized its fleet of buses. 
Another tremendously important landmark in Ireland's history was the launch of commercial transatlantic flights in 1958. The first such flight between Ireland and New York was a tremendous occasion, with the mayor of New York City and other dignitaries arriving; for the return flight, Tánaiste (Deputy Prime Minister) Sean Lemass and other prominent Irish politicians took the flight over to New York. At a celebratory dinner in the Big Apple, Sean Lemass spoke warmly of the relationship between America and Ireland, reflecting on the importance of the Irish diaspora:
"One thing you can be sure of, you will never see any 'Americans, Go Home" signs in our country. Our feeling for the United States and its people is deep and warm. We feel that everyone in this country with Irish connections should visit Ireland at least once."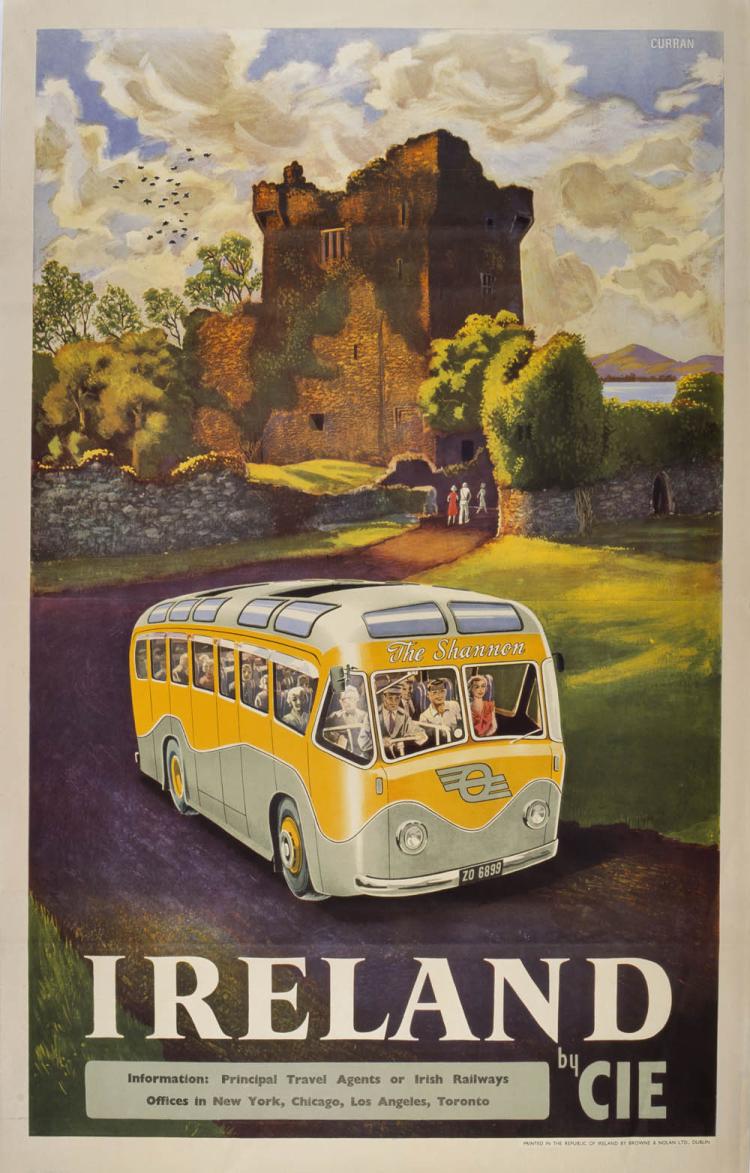 CIE Tours was ready to welcome these American travelers to Ireland with innovative new products, some departing from Shannon Airport. As the New York Times had reported, 
"To give Americans traveling by air to Europe an opportunity to get a sampling of what Ireland can offer, the National Transport Company (known as C.I.E.) has introduced this year motor coach tours from Shannon to Killarney and Blarney. The cost of the trip is $38, which covers everything, including hotels, meals and tips. As a tryout these Shannon trips will be run this year from June 2 to the 28th and from Sept. 1 to the 27th, Saturdays excluded.

Another new luxury coach tour by C.I.E., this one lasting eight days, takes in the Yeats country of Sligo and the lovely island-studded Lough Gill. From Sligo there is a drive through part of Mayo and into Galway, from where there is an afternoon's fun to the towering Cliffs of Moher on the Atlantic coast. This tour includes a whole day in the heart of Connemara, Killarney and the complete Ring of Kerry, getting back to Dublin on a Sunday evening. The all-inclusive price is $76.14."
The new tours were a tremendous success, and indeed, the deep and warm feelings between Ireland and the people of the United States were mutual – so much so that  by 1964, CIE Tours had opened an office on Fifth Avenue in Manhattan. Its transition from a small division of the Irish rail service to a fully fledged international tour company was complete.