Unpacking the CIE Tours Travel Pack

We are excited to share a sneak peek into one of the features our guests love: our meticulously curated Travel Pack! Designed with your comfort, convenience, and enjoyment in mind, our Travel Pack is your companion on the road to explore the captivating destinations of Ireland, Scotland, England, Wales, Iceland, and Italy.

1. Backpack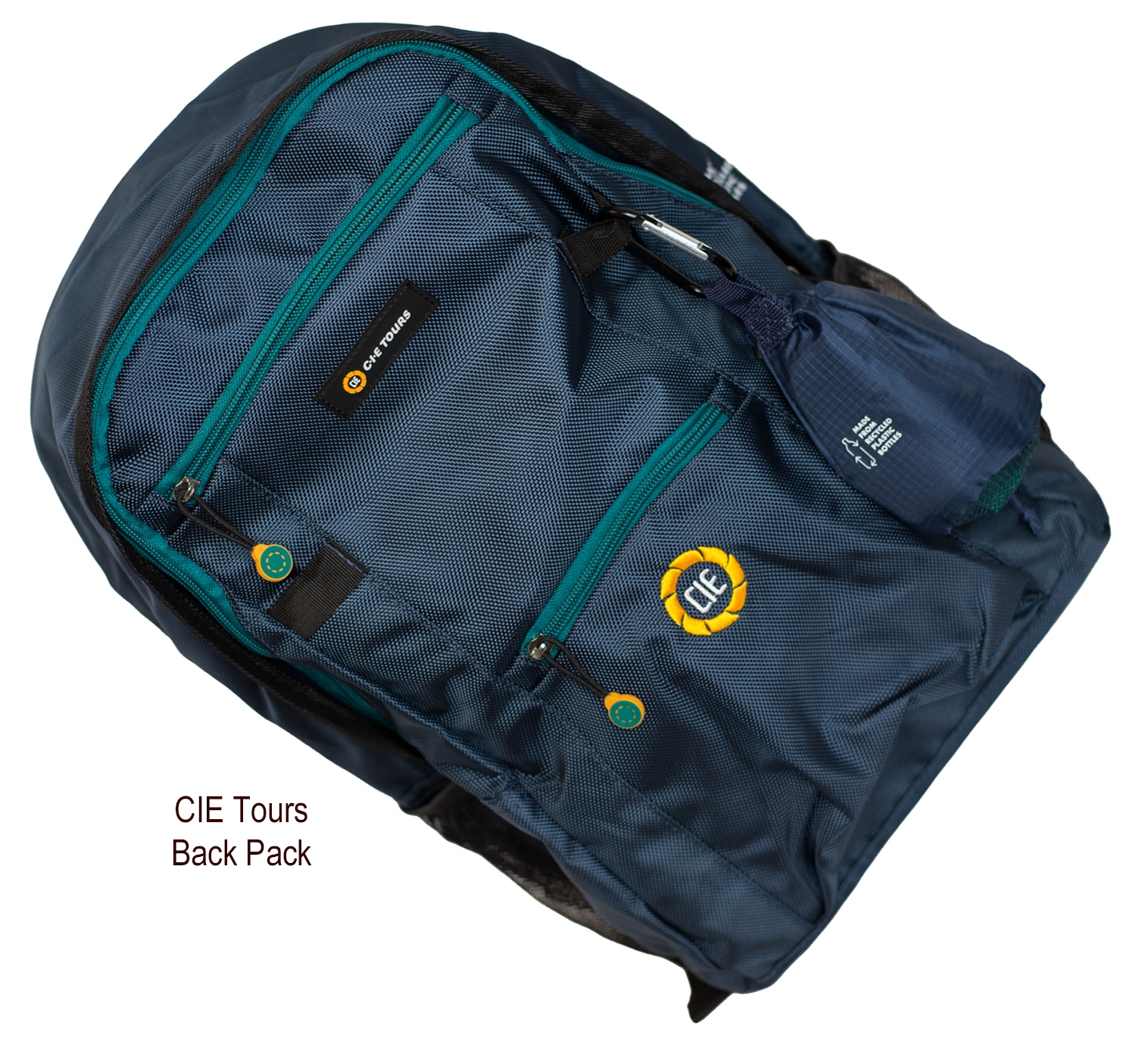 Let's start with the heart of the pack - our CIE Tours backpack. Durable, stylish, and spacious, it's perfect for carrying your essentials as you explore new horizons. With ample pockets and compartments, it's designed to keep your belongings organized and within easy reach throughout your journey. We recommend you use your backpack as your carry-on for the coach, as it's designed to fit under your seat and stash all your daily needs. Tip: Tie a ribbon, a CIE Tours luggage tag, or other distinguishing item on your backpack to easily identify yours from the rest of your traveling companions.

2. Luggage Strap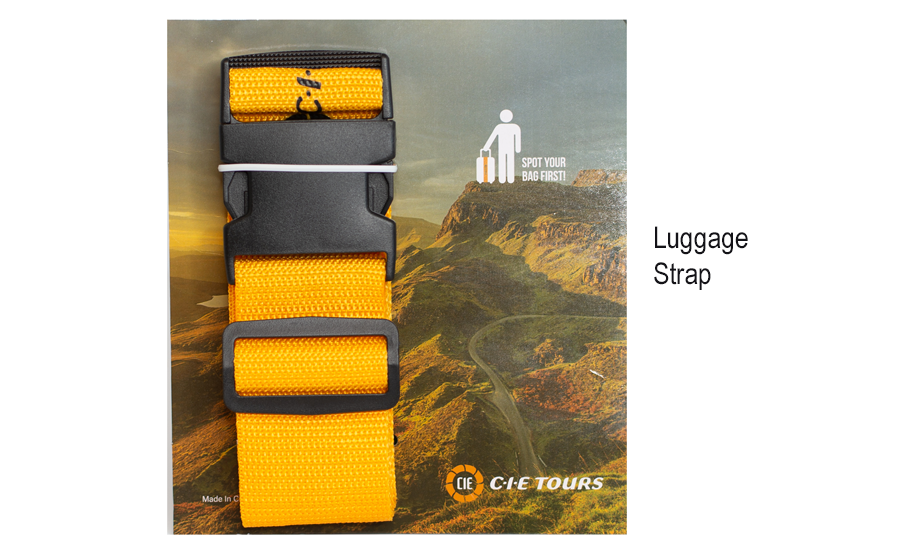 Our CIE Tours luggage strap serves several purposes. Wrap it around your luggage after you've closed up your bag. It will help keep your belongings secure and prevent any accidental bag openings. It also helps you easily spot your luggage at the airport. Perhaps most importantly, it will let our staff identify your luggage when you place your suitcase outside your hotel room in the mornings, allowing them to load up the coach quickly. With a simple, sturdy design and the CIE Tours logo, it's a handy accessory for stress-free travel. Tip: wrap the luggage strap horizontally across your suitcase, through the handle on the side, for an added layer of support to your well-packed bag.

3. Luggage Tags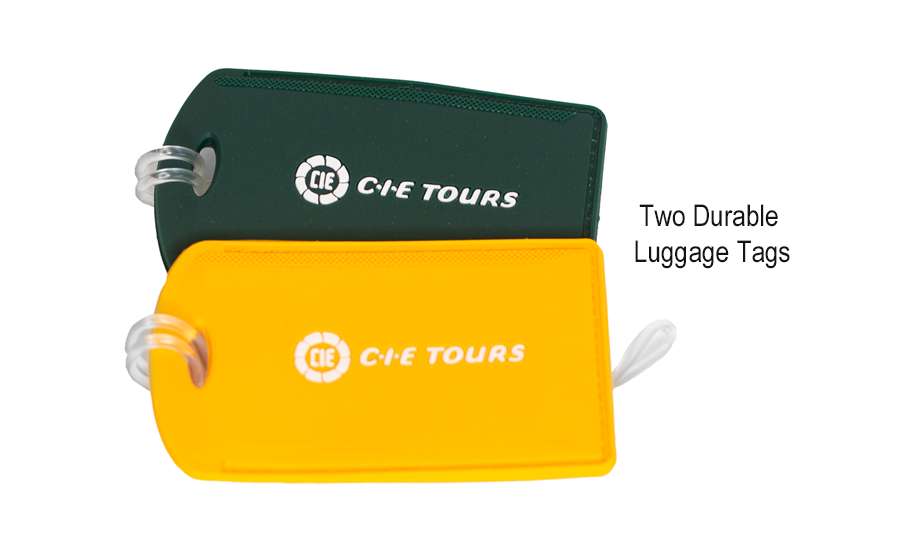 The luggage tags in your CIE Tours Travel Pack will help you quickly identify your bags at the baggage claim and add a touch of personalization to your luggage. Not only are they useful for checked luggage, but they are critical for the baggage handlers at each hotel to facilitate quick delivery of your luggage directly to your room upon arrival. Remember, baggage handling is included during your trip (one per person).   

4. Water Bottle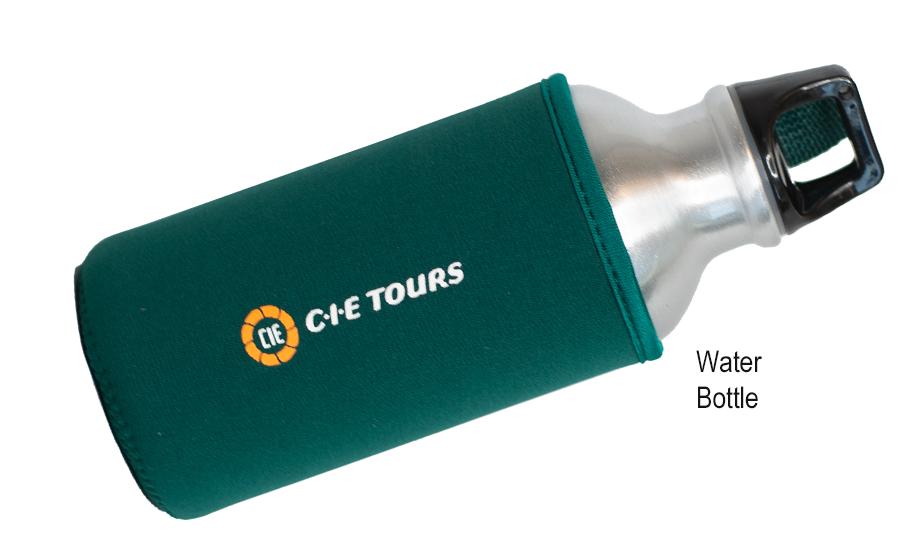 Stay hydrated on your travels with our CIE Tours water bottle. It's eco-friendly and reusable, allowing you to reduce your carbon footprint while enjoying a refreshing sip on your adventures. You will find having water with you after an excursion will quench your thirst and also save you money. Tip: Many hotels have water dispensers in their lobbies or can refill your bottle during your included breakfast, so be sure to fill up before departing for the day's activities. 

5. Poncho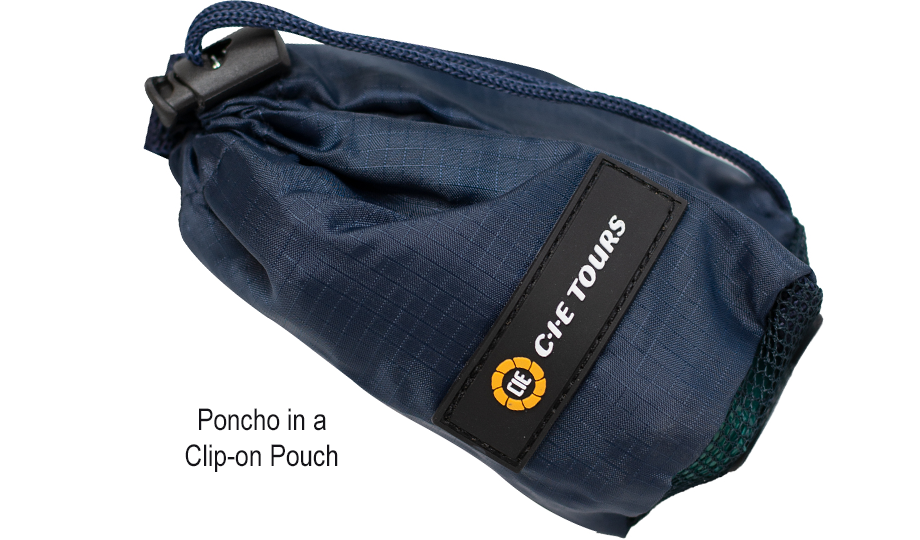 Weather can be unpredictable, but we've got you covered! Our Travel Pack includes a lightweight, compact poncho. Whether you're exploring the bustling streets of Edinburgh, walking beneath a 200-foot waterfall in Iceland or watching a sheepdog demo in the stunning landscapes of Ireland, you'll stay dry and comfortable.

6. Travel Adapter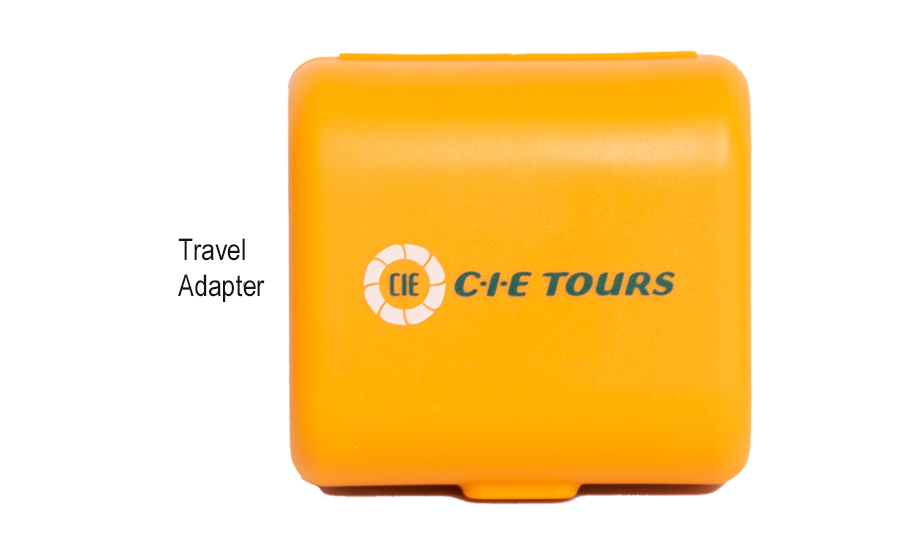 Our universal travel adapter ensures that your electronic devices can be charged without any hassle, no matter where your journey takes you. Please note this is not a converter – check to make sure your appliances are dual-voltage (most phones and computers will be). If they aren't, you'll need an additional device to convert the voltage.

We send out our Travel Packs to our guests approximately three weeks before your departure date. We understand that every detail counts when you're exploring new destinations, and our Travel Pack is just one of the many ways we ensure your journey is as memorable and stress-free as possible. So, get ready to pack your bags and embark on a remarkable adventure with CIE Tours -  we're here to make every moment unforgettable.