Mooo! Fun Facts about Irish and Scottish Cows
You can't miss these gentle beasts when you visit their stomping grounds.
Spotting the native creatures is always a fun part of visiting a new country – and in Ireland and Scotland, all that lovely green farmland is home to deer, rabbits, a variety of birds, goats, sheep – and of course cows. These gentle creatures dot the landscape, placidly chewing their cud while they gear up to provide valuable milk and delicious butter for the world to enjoy. 
Let's take a closer look at some fun facts related to these gentle creatures:
1. You can't miss 'em!
There are about one billion head of cattle in the world – and Ireland and Scotland have millions of them!  So visitors to either of these countries are sure to see plenty of cows. About 1.75 million live in Scotland, with a tenth of these being dairy cows. Ireland, however, boasts an astonishing 6.5 million of them, with about 1.5 million of them being dairy cows.
2. Scotland's Highland cows are dressed for the weather.
Scotland's most famous cows are its Highland cows, often called "Hairy Coos" by the locals. These long-haired creatures (pictured above) with distinctive horns living up in the wilds of Scotland are a hardy breed – and their fabulous coats really help them survive. It's actually a double coat of hair, with long, oily hair on the outside, and a downy undercoat underneath. This cozy covering keeps them warm in the winter and protects their eyes from flies – as well as giving them that shaggy style that makes them so photogenic.
3. Irish cows feed the world.
You might be able to find Irish butter in your local supermarket – and that's because Ireland exports about 90% of its milk production to 140 countries! It's worth about 3 billion euro to the Irish economy.
4. Highland cows are known for their great personalities.
If you've ever met a Highland cow, you've probably noticed what a calm and cheerful creature she was! They are docile animals, and they seem to enjoy the company of humans. In fact, early Highlanders would often bring them into their homes at night to help warm the house and keep everyone cozy.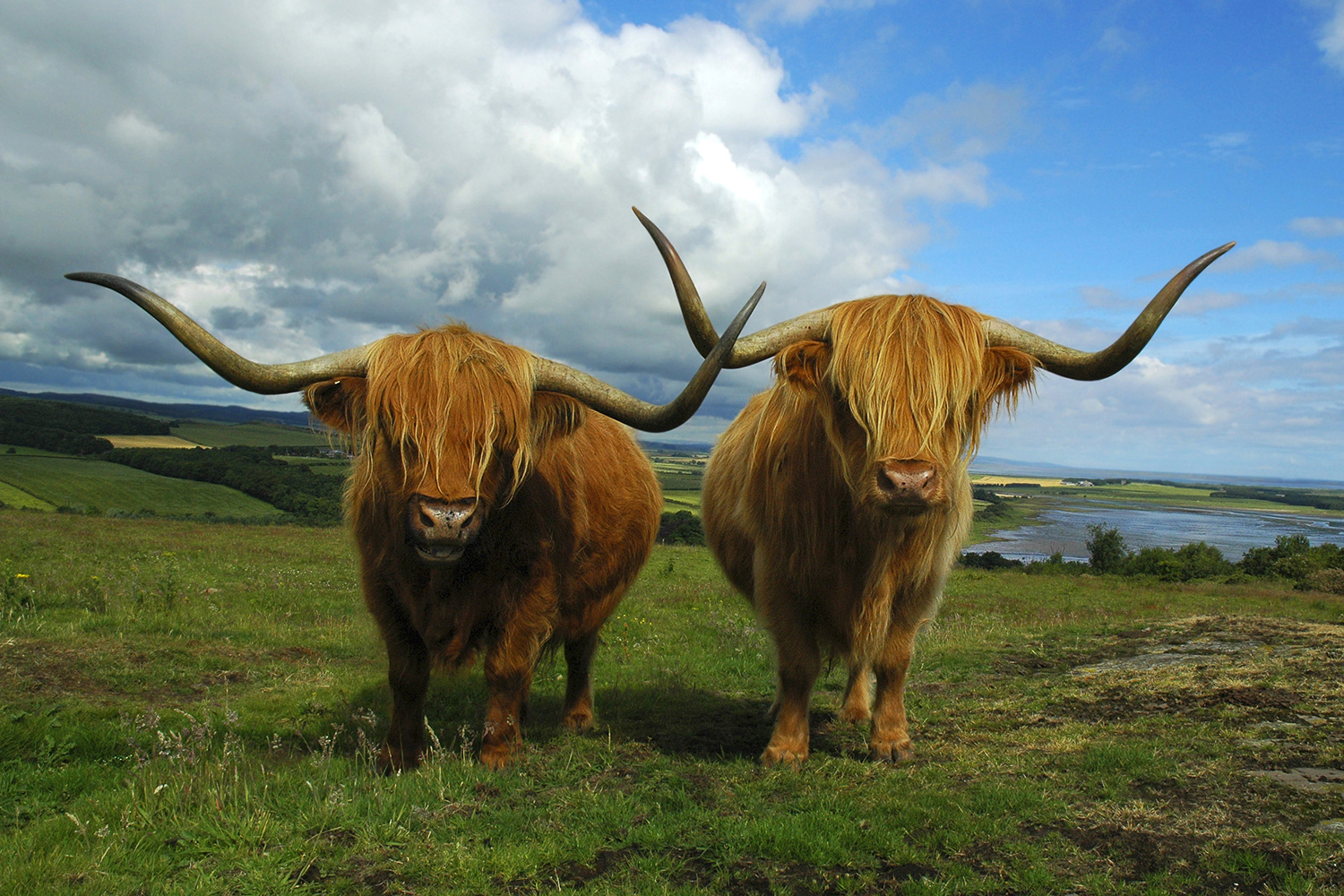 5. Queen Elizabeth had her own herd of cows.
Everyone knows the late Queen loved her corgis, but she's also had 165 dairy cows living on her country estate at Balmoral in Scotland – some descended from cows given to Queen Victoria in 1871. And they live splendid lives. Not only do they graze on vast green royal pastures, but they enjoy the comfort of an automatic cow brush to remove dirt from their hair, while robots milk them and clean up after them. These regal beasts even sleep and lounge on comfortable waterbeds.
6. Ireland's native breeds include one of the world's oldest.
Ireland has four native breeds of cows - one of them, the Kerry cow, dates all the way back to 2,000 BC and is one of Europe's oldest breeds. These cows, with their black, glossy coats, are known for their delicious, easily digestible milk. If you've ever visited Ireland and tried Murphy's Ice Cream, you've had the milk of a Kerry cow! It's the only breed they use for their frozen delicacies. (If you'd like to try it, you can visit Murphy's in Dingle on our Southern Gems and Jewels of Ireland tours.)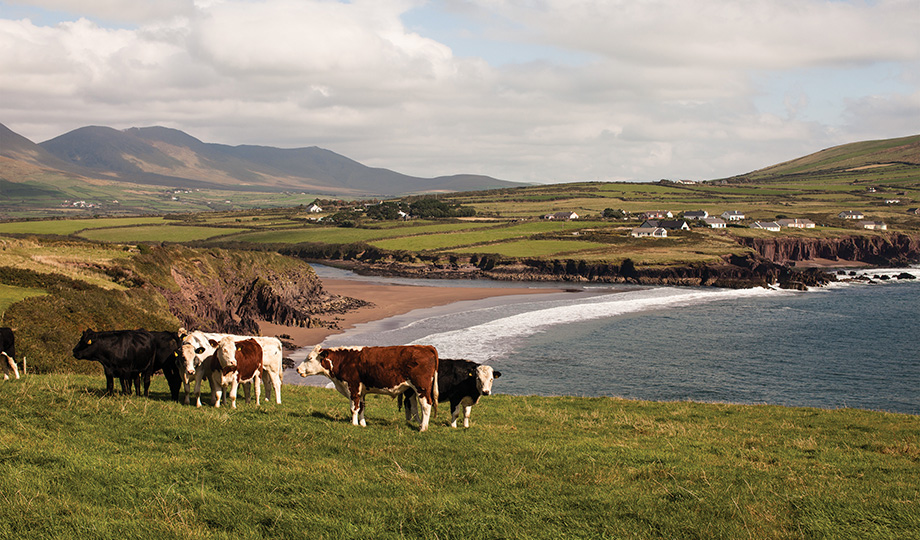 7. You don't need to be in the Highlands to spot a Highland cow.
Sure, we think Scotland is the best place to see the Highland cow, but they have traveled far. Today, Highland Cows live in the south of Scotland, other parts of Europe, Australia, and across the Americas – including the Peruvian Andes!
8. County Kerry was once home to a world-record-breaking cow.
An Irish cow once held two Guinness World Records - Big Bertha, who lived near Sneem, County Kerry held the record for lifetime breeding, after producing 39 calves. She was also the oldest cow in the world - dying in 1993 at the ripe old age of 48! A local celebrity, she used to lead the St Patrick's Day parade in Sneem - fortified with a drop of whiskey to steady her nerves in front of the large and enthusiastic crowds. When she died on New Year's Eve in 1993, locals held a wake for her in the Blackwater Tavern near her home.
9. You can get up close to say hello.
As we said, there's no way you'll miss these gentle creatures if you visit the Irish or Scottish countryside - and you can get even closer to the Highland Cows if you join us on one of our Scottish tours. CIE Tours guests on our Taste of Scotland, Taste of Scotland & Ireland, or Scottish Dream tours stay at the Muthu Newton Hotel near Inverness. The hotel has a tiny herd of the shaggy, gentle beasts, and to say hello you need only take a short stroll over to their paddock. Be sure to take a snapshot! What better souvenir than a selfie with a Hairy Coo?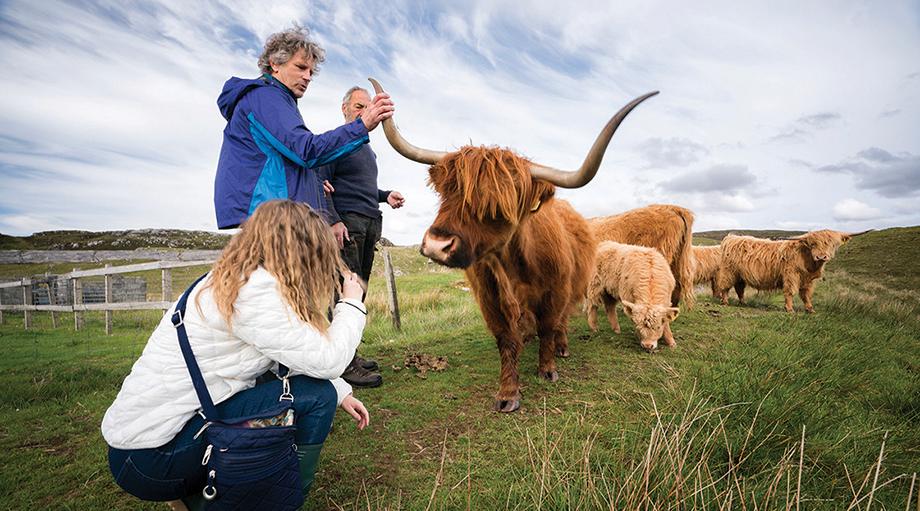 Say "cheese"! These friendly creatures are always photo-ready.