Beautiful Ireland: Our top scenic spots
From the Ring of Kerry to the Giant's Causeway, Ireland's scenery will amaze you
With lush sweeping mountains, ancient stone walls, romantic castle ruins, and picture-perfect villages, there's no shortage of gorgeous scenery in Ireland. We think it's one of the best places in the world to sightsee – Ireland's emerald-tinted beauty is simply extraordinary. Let's take a look at a few of our favorite spots!
Cliffs of Moher
If you're looking for the perfect spot for your souvenir selfie, it would be hard to find a better backdrop than the sweeping Cliffs of Moher (pictured above). This is no ordinary sight: nine miles long, and soaring 700 feet above the Atlantic, the Cliffs among Ireland's most recognizable landmarks. They've been a draw for visitors since the 18th century, and if you're a movie fan, they'll be familiar to you. They were the filming location for "The Cliffs of Insanity" in The Princess Bride, a Harry Potter scene was filmed in a cave at the base, and they feature in the Irish classic "Into the West". Most CIE Tours vacations in Ireland visit the Cliffs of Moher, so there's no shortage of opportunities to see these beloved formations.
Slieve League Cliffs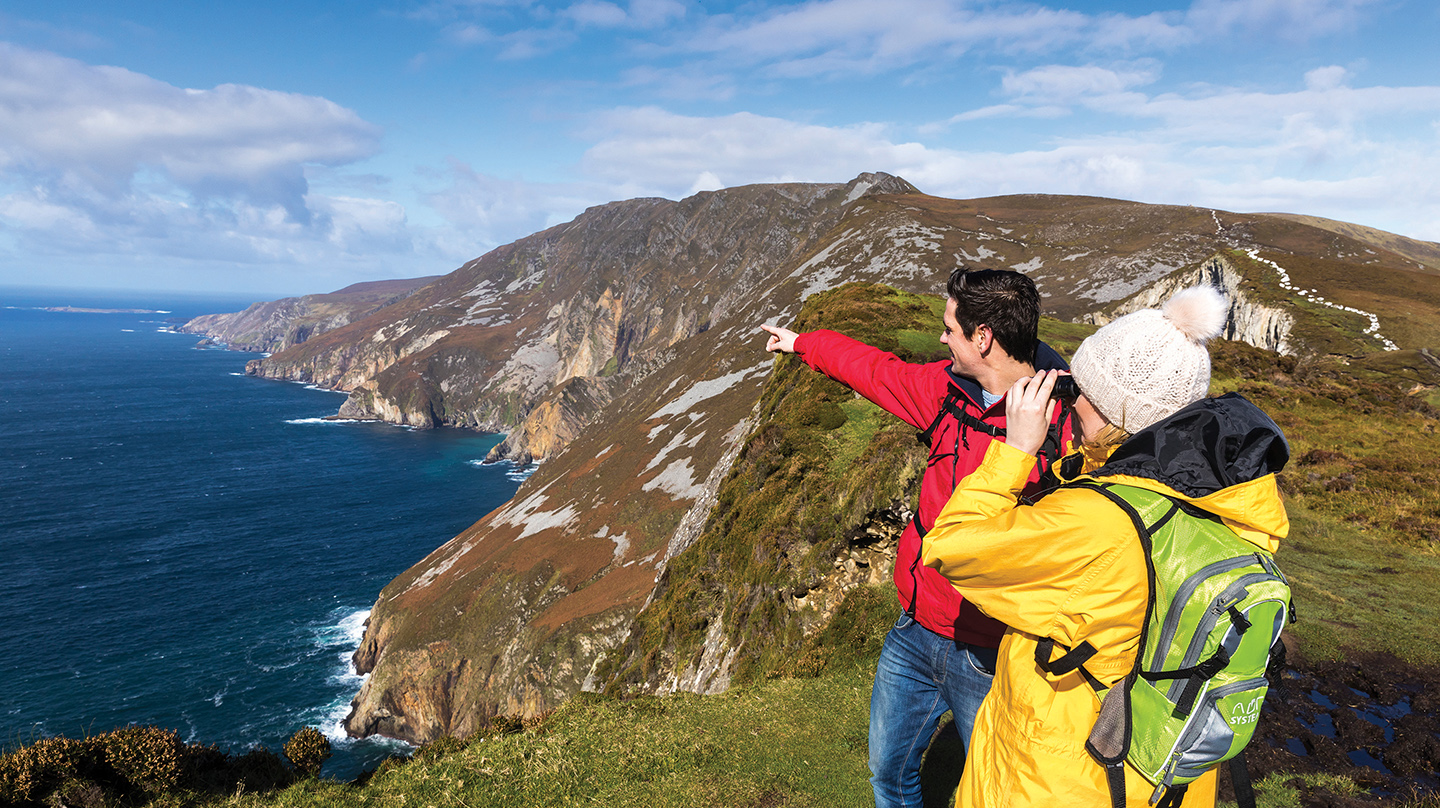 While the Cliffs of Moher may be the most famous cliffs in Ireland, they're not the largest. That accolade belongs to Slieve League in Donegal – they're actually the largest sea cliffs in all of Europe, towering 2,000 feet above the Atlantic at their highest point. What could be better than to be surrounded by the awesome beauty of the dramatic landscape around you, the roaring ocean below, and the seabirds flying overhead?  Well, on the Irish Explorer tour with CIE Tours, you'll experience the scenic splendor with a cup of creamy Irish coffee to warm and revive you.
Glendalough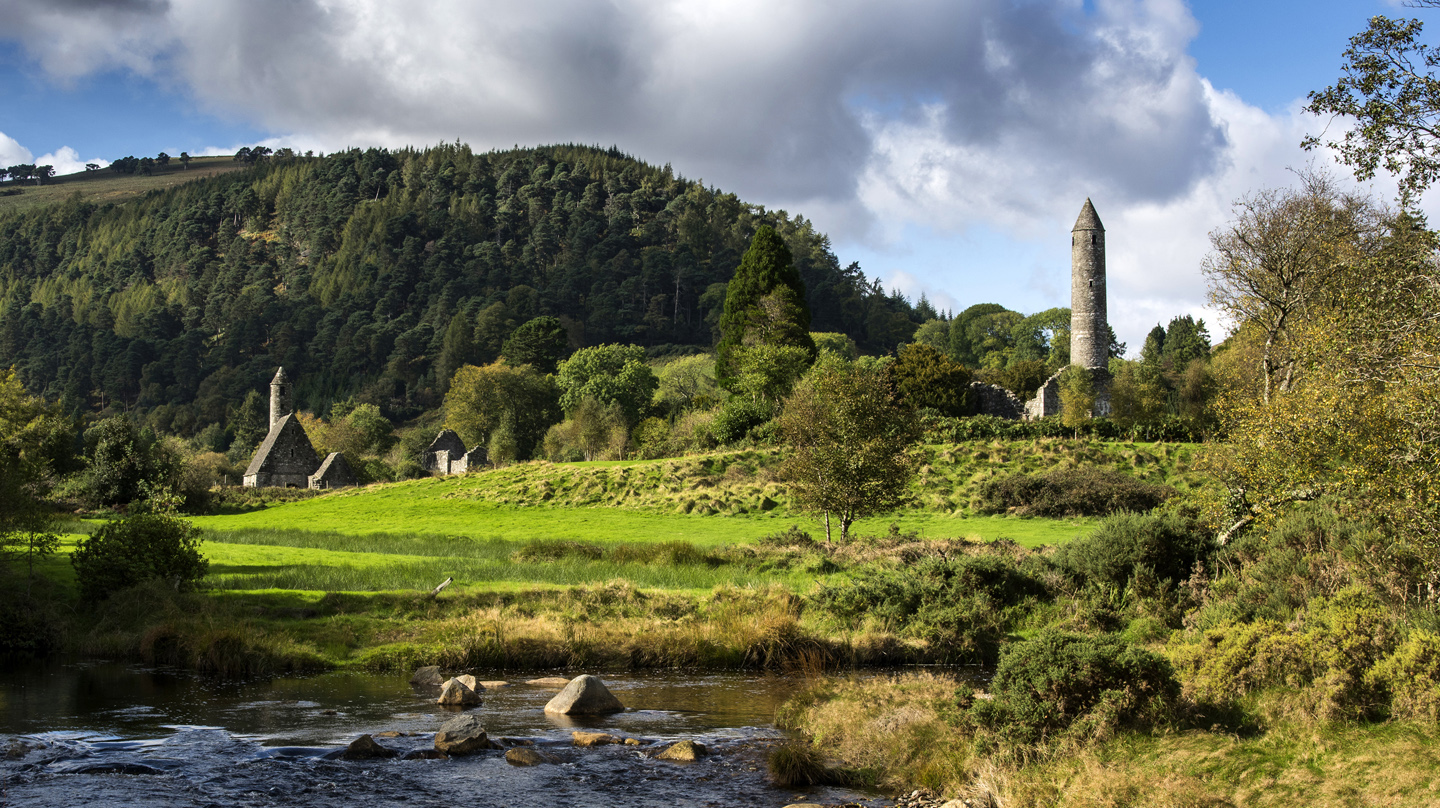 If historic ruins inspire you, there's no better spot than Glendalough. This old settlement nestled in the splendor of the Wicklow Mountains is what's left of a sixth-century monastery. Founded by St Kevin, the monastery flourished as a center of learning for hundreds of years, despite numerous sackings by Vikings. As you walk among the picturesque ruins, you'll see a distinctive 30-foot round tower, churches dating to the 10th century, and one of Ireland's oldest Celtic crosses. Just imagine the many medieval monks who once lived here, producing beautifully illustrated manuscripts in Irish and Latin – these monks would preserve much of Europe's knowledge of religion, astronomy, and mathematics during the Dark Ages. You can visit Glendalough on our Irish Spirit, Irish Adventure, Irish Heritage tours.
Ring of Kerry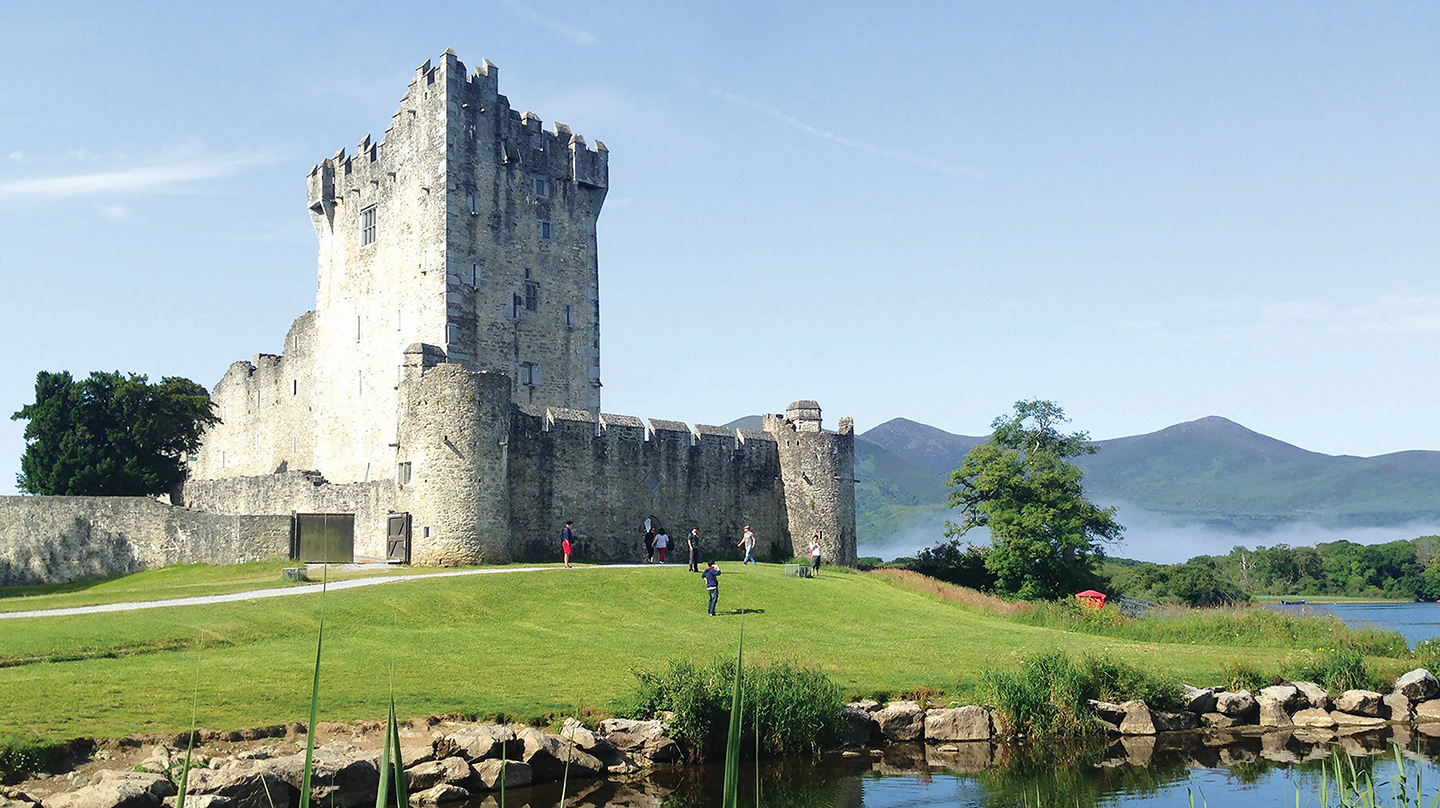 The Ring of Kerry is Ireland's best-known scenic drive. It's a winding coastal road showcasing rugged mountains, sandy beaches, ancient ring forts, and enchanting villages. The 110-mile route circles the Iveragh Peninsula in the island's southwest, with Killarney as the usual starting point. The drive takes about 3.5 hours without stopping, but there's much to make pausing worthwhile.  One of the Ring's most scenic viewpoints is named "Ladies' View", the name commemorating the visit by Queen Victoria and her ladies-in-waiting in 1861.  Other sights along the way include Skellig Michael, the small rocky outcrop, visible offshore, where monks once lived and Star Wars was filmed. Many of our Irish tours drive the Ring of Kerry, including Taste of Ireland and Irish Heritage. 
Giant's Causeway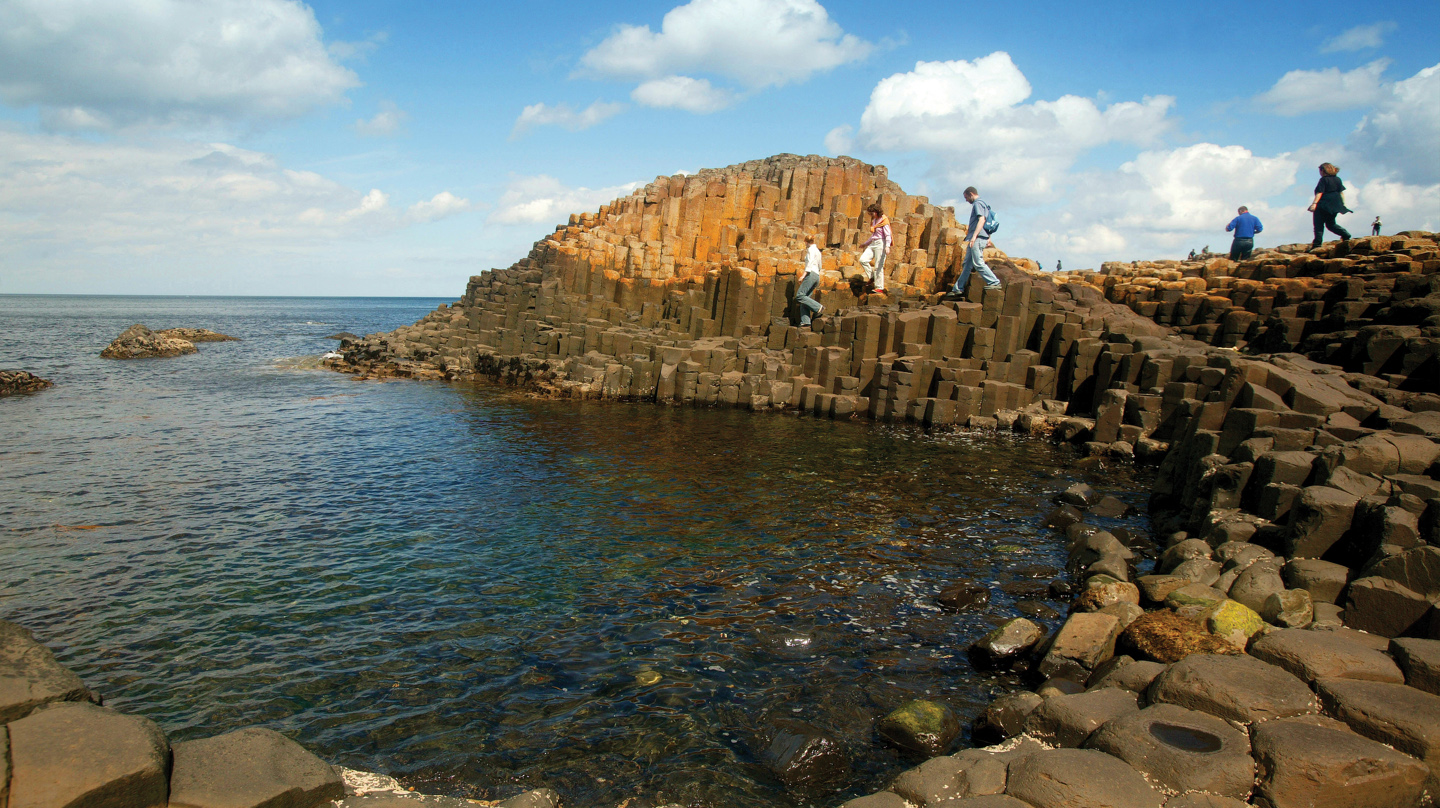 What do you get when you combine spectacular natural formation with a little bit of fantastic folklore? The Giant's Causeway in County Antrim -  a delight for both scenery-hunters and lovers of a good story. Science tells us that this natural wonder of 40,000 interlocking basalt columns sweeping into the sea was created by ancient lava flows. Legend says a giant, Finn MacCool, built it as a path to reach a Scottish rival, Benandonner, across the North Channel. Finn is the victor in the battle through physical prowess in one version of the tale – but in another, Finn outwits Benandonner: when he realizes that the Scottish giant is much larger than he is, he cleverly asks his wife to disguise him as a baby. When Bennandonner sees the size of his rival's "baby", he takes fright – and runs back to Scotland, destroying the causeway behind him. See the Giant's Causeway on many of our tours, including Irish & Scottish Sampler, Jewels of Ireland, and Irish Classic.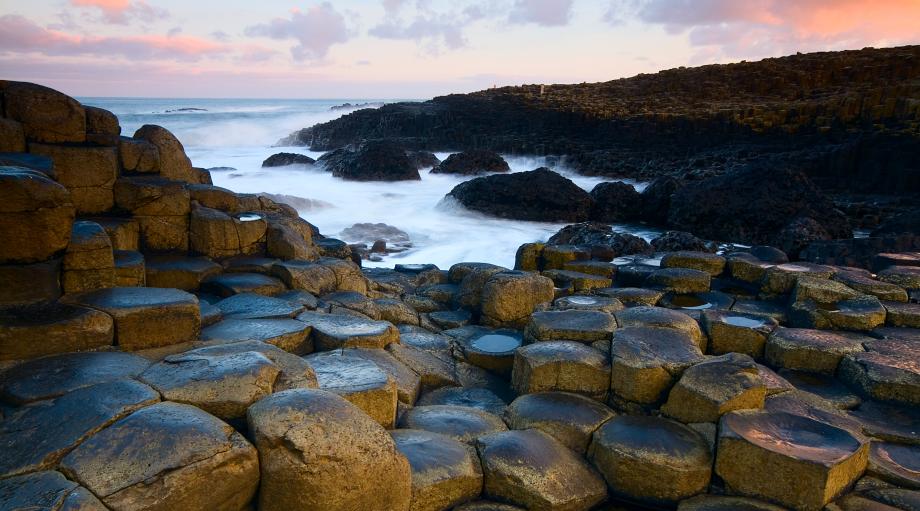 CIE Tours can bring you to Giant's Causeway and all these scenic spots across Ireland - plus so much more!
All our Irish itineraries are available as guided vacations or as Independent Adventures - either self-drive or with your own driver. CIE Tours can also take you to Scotland, England,  Wales, Iceland, and Italy! Explore our website for more.