Savor history and whisky in Edinburgh, then journey over to discover the wonders of Giant's Causeway, delve into history in Belfast, and enjoy traditional entertainment in Dublin.
Trip details
7
Days
6
Nights
10
Meals
Available Promotions for this tour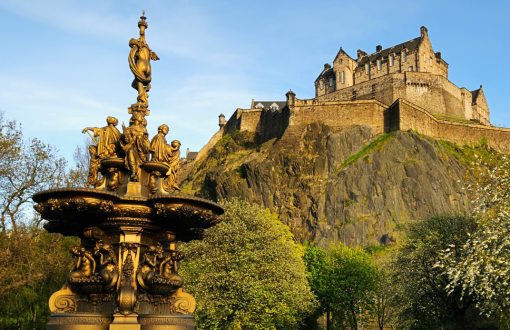 Edinburgh Castle
Experience the majestic allure of Edinburgh Castle, where history comes to life amidst ancient walls, breathtaking views of the city, and captivating tales of royalty, battles, and Scottish heritage.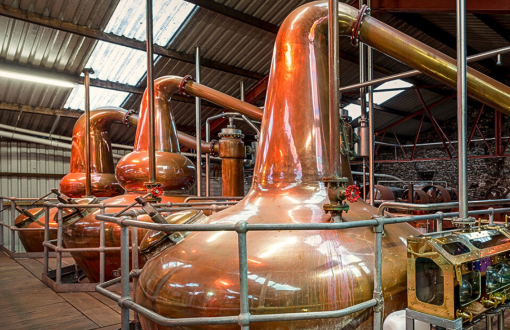 Port of Leith Distillery
Discover the charms of Port Leith Distillery, where you can explore traditional whisky-making techniques, savor exquisite spirits, and embrace the coastal influences that make their flavors truly exceptional, creating an unforgettable experience for whisky enthusiasts.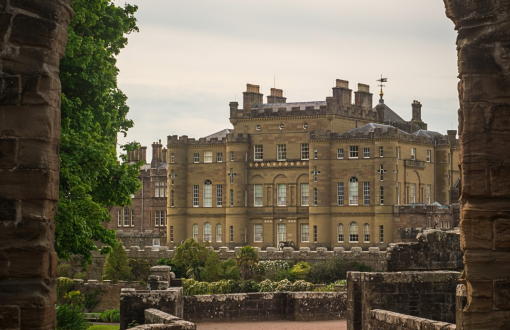 Culzean Castle
Uncover the grandeur of Culzean Castle, perched atop dramatic cliffs overlooking the Ayrshire coast, and be captivated by its stunning architecture, picturesque gardens, and rich history, making it an unforgettable destination for castle enthusiasts and nature lovers alike.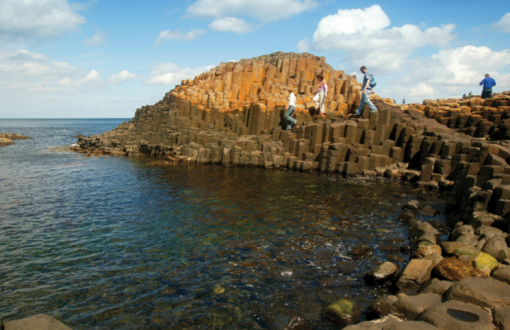 Giant's Causeway
Marvel at the stunning Giants Causeway, a natural wonder of interlocking basalt columns that captivates with its legendary beauty.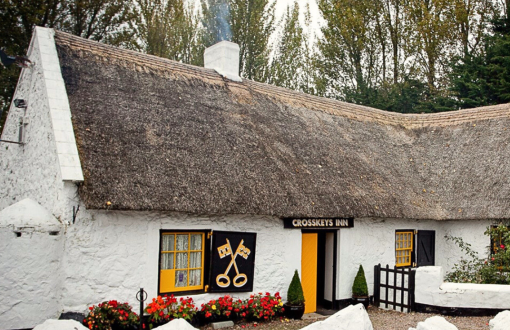 Crosskeys Inn (CIE Tours Exclusive)
Indulge in the authentic charm of the Crosskeys Inn, Ireland's oldest thatched pub. Step into a cozy atmosphere, savor traditional Irish food and drink, and immerse yourself in the warm hospitality and live music.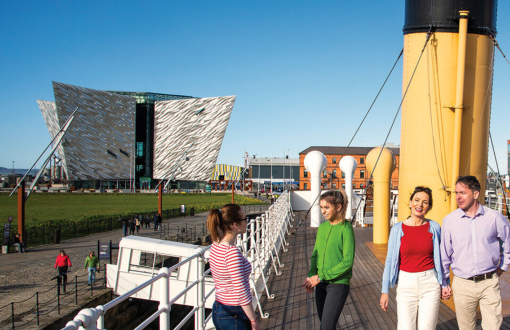 Titanic Belfast
Experience the awe-inspiring Titanic Belfast museum, where you'll delve into the captivating story of the Titanic through immersive exhibits, gaining a deeper understanding of its construction, voyage, and the lives intertwined with its tragic legacy.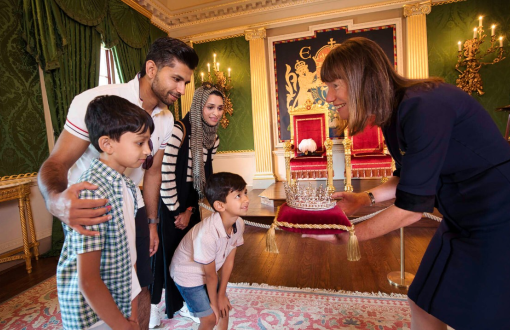 Hillsborough Castle
Step into the regal world of Hillsborough Castle, a breathtaking Georgian mansion surrounded by stunning gardens. Discover the fascinating history of this official residence of the British Royal Family in Northern Ireland. Hillsborough Castle played a pivotal role as the backdrop for crucial milestones in the Northern Irish peace process.
Irish Night in Dublin
Spend a fun evening at Taylor's Three Rock in Dublin enjoying an evening of traditional entertainment. You'll be captivated by lively Irish music and dance, swept away by the convivial atmosphere, and treated to an array of culinary delights, all served with the warmest Irish hospitality.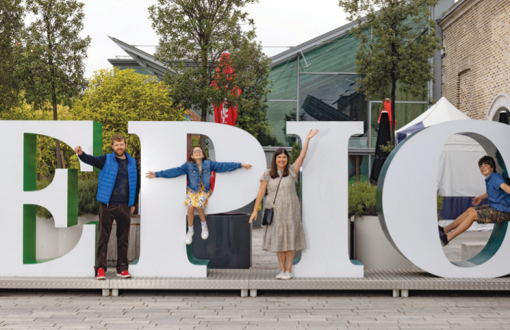 EPIC The Irish Emigration Museum
Embark on a transformative journey through the Epic Irish Emigration Museum, where you can delve into the captivating stories of Irish emigrants and their impact on the world.


Trip Itinerary

Day 1

Edinburgh Tour
Your tour departs from your Edinburgh hotel at 2:30 PM. Have a welcome drink with your group and then set out on a panoramic tour of Edinburgh. Discover the medieval townhouses along the Royal Mile in the heart of the Old Town and the Georgian mansions of the 200-year-old New Town. Your evening is free to return to the hotel or to explore and dine as you wish.

Day 2

Port of Leith Distillery | Edinburgh Castle
Visit the Port of Leith Distillery, a new distillery in Scotland's historic center of trade in wines and spirits. Discover how this modern distillery approaches sustainability in ingredients and production methods. Next, explore Edinburgh Castle, once a royal fortress and today home to the Scottish Crown Jewels. The rest of your day is free to stroll the city and dine as you wish. (August 4 and 11 departures attend the spectacular Royal Edinburgh Military Tattoo on the Castle Esplanade.) (B)

Day 3

Culzean Castle | Ferry to Belfast
Travel to Culzean Castle, a grand, centuries-old castle that includes an apartment given to General Eisenhower as a gesture of thanks for America's support in World War II. Tour the beautifully furnished castle and have lunch there before departing for Cairnryan for the ferry to Belfast. Enjoy dinner at your hotel in Belfast this evening. (B, L, D)

Day 4

Nine Glens of Antrim | Giant's Causeway | Crosskeys Inn
Travel along part of the Nine Glens of Antrim, a scenic region with lovely views of mountains, valleys, and coastline. Discover the Giant's Causeway, a natural wonder formed over 60 million years ago by cooling lava that has given rise to many legends. Savor lunch with your group in Ireland's oldest thatched roof pub, the Crosskeys Inn – a CIE Tours Exclusive. (B, L)

Day 5

Titanic Belfast | Hillsborough Castle | Taylors Three Rock
Visit Titanic Belfast to explore the story of the doomed ocean liner, built in the local shipyards in 1912. Tour the stately Hillsborough Castle, the home of the King when he visits Northern Ireland. Travel on to Dublin for an Irish night at Taylors Three Rock, where you'll be entertained by a lively show over dinner. (B, D)

Day 6

Dublin City Tour | EPIC The Irish Emigration Museum
See Dublin's grand Georgian buildings and squares, the River Liffey and historic O'Connell Street on a panoramic tour. Visit EPIC The Irish Emigration Museum, an award-winning, high-tech museum that chronicles the journeys made by Irish emigrants around the globe, and details the stories of the new lives made by the Irish abroad. Your afternoon and evening are free to explore as you wish. (B)

Day 7

Tour Ends in Dublin
Your tour ends after breakfast. (B) B: Breakfast; L: Lunch; D: Dinner *Meal counts vary on Tattoo departures, as the Scottish Evening is replaced with the Tattoo and an independent dinner.>
Where you'll stay
A Hidden Gem
This new tour is a great one for those looking to check out the delights of Scotland and Ireland in a short time. We're excited to bring our guests to a fantastic new distillery in Scotland as well as the beautiful Culzean Castle, and some of our most intriguing attractions in Ireland, including the Giant's Causeway and EPIC the Irish Emigration Museum.
Robert - CIE Tours Product Manager
See what people are saying about this trip
Douglas Alan Babcock
1 month ago
Great overall experience.
CIE Tours Customer
4 months 4 weeks ago
Our favorite accommodation was Atholl Palace in Scotland. The meals were all very good. Sightseeing experiences were amazing. We only wish we had more time in each location but glad to see all the places our first trip.
Ms. Jeanette Alice Goldizen
5 months 4 weeks ago
Pleased
Very pleased, would do it again
CIE Tours Customer
1 year 1 month ago
Places on my bucket list to visit
Kevin Joseph Mazella
1 year 4 months ago
Able to see multiple cities and areas

The Inclusive Advantage
Get more without spending more.
CIE Tours includes every experience and most meals so you won't be hit with hidden expenses.