22 Icelandic Experiences for 2022
The welcome is warm in this land of glaciers and volcanoes.
Discover Iceland on a vacation with CIE Tours! Settled by Vikings a little more than a thousand years ago, Iceland's forces of fire and ice have combined to create an amazing landscape of stark beauty. In the summer, you'll revel in the midnight sun; in the winter, watch out for the ephemeral, unpredictable beauty of the Northern Lights. 
And when you travel to Iceland on our Taste of Iceland and Northern Lights Quest of Iceland tours you'll discover all the highlights of this fascinating land. Here are 22 of our favorite experiences that you could discover in Iceland in 2022!
1. Discover Reykjavik on a panoramic tour to see its charming architecture and brightly colored rooftops. See all the iconic sights, including the city's soaring modern cathedral, its beautiful convention center, and the famous Sun Voyager sculpture.
2. Learn about the lives of Iceland's earliest settlers at Skógar Folk Museum. The vast collection at this fascinating museum was put together by the former curator, Thordur Tomasson, who retired at the age of 92 after 75 years of collecting. The museum features fishing tools, decorative arts, and books, as well as several restored buildings, including a turf house, a school building from 1901, and a farmhouse. 
3. Dine in the always summery and fragrant environs of a greenhouse. Fridheimar Tomato Farm serves a delicious lunch with fresh-picked tomatoes as the key ingredient in every dish.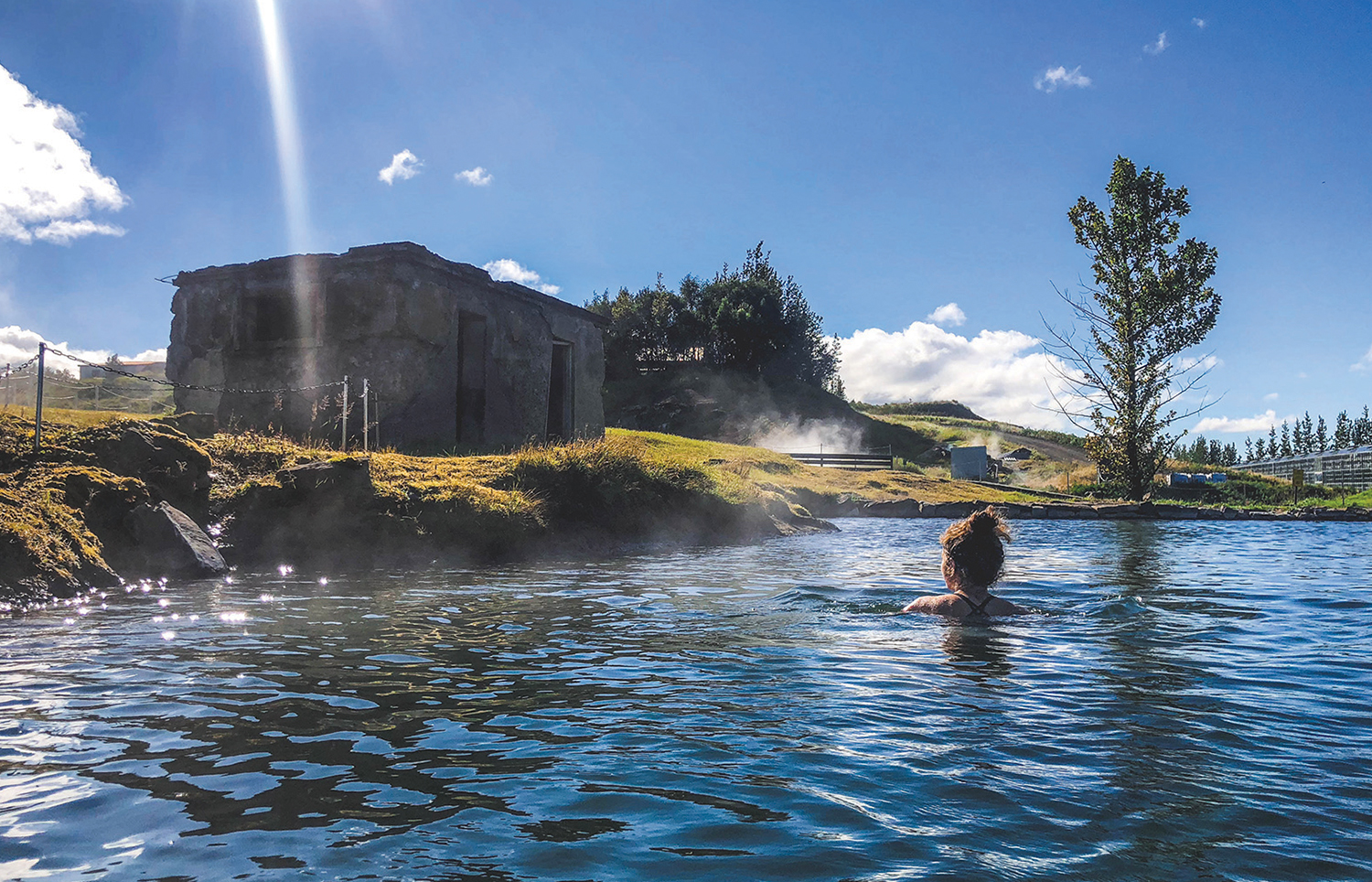 4. Take a dip in the Secret Lagoon, Iceland's oldest swimming pool. Small and intimate, it's where savvy travelers go to enjoy an authentic Icelandic spa experience. Fed by natural hot springs, the water temperature hovers around 100 degrees Fahrenheit all year long. 
5. Admire the magnificence of the Icelandic horse.  You'll see these gentle, friendly horses in farms around Iceland – and all of them are related to the horses brought over by the original Norse settlers around 900 AD. The Icelandic Parliament passed a law in 982 to keep them isolated on the island, so for a thousand years, no other breed of horse has been allowed to enter, and no Icelandic horse that leaves the island can ever return. They are uniquely equipped to deal with their native terrain: short and sturdy; and they have five gaits, two more than most horses. In addition to common gaits - walking, trotting, and galloping like horses in the rest of the world - they also amble at a 'tölt', which is both fast and very smooth; and they gallop briskly at 'skeið', which is a fast, rhythmic gallop. 
6. In the winter months, take a boat quest to hunt for the Northern Lights.  You'll enjoy beautiful views of Reykjavik as you sail away watching for the elusive, ephemeral aurora borealis.
7. Discover the power of volcanic eruptions that shape the earth and created Iceland beginning tens of millions of years ago at the LAVA Centre. This high-tech museum highlights the magnificence of these colossal forces.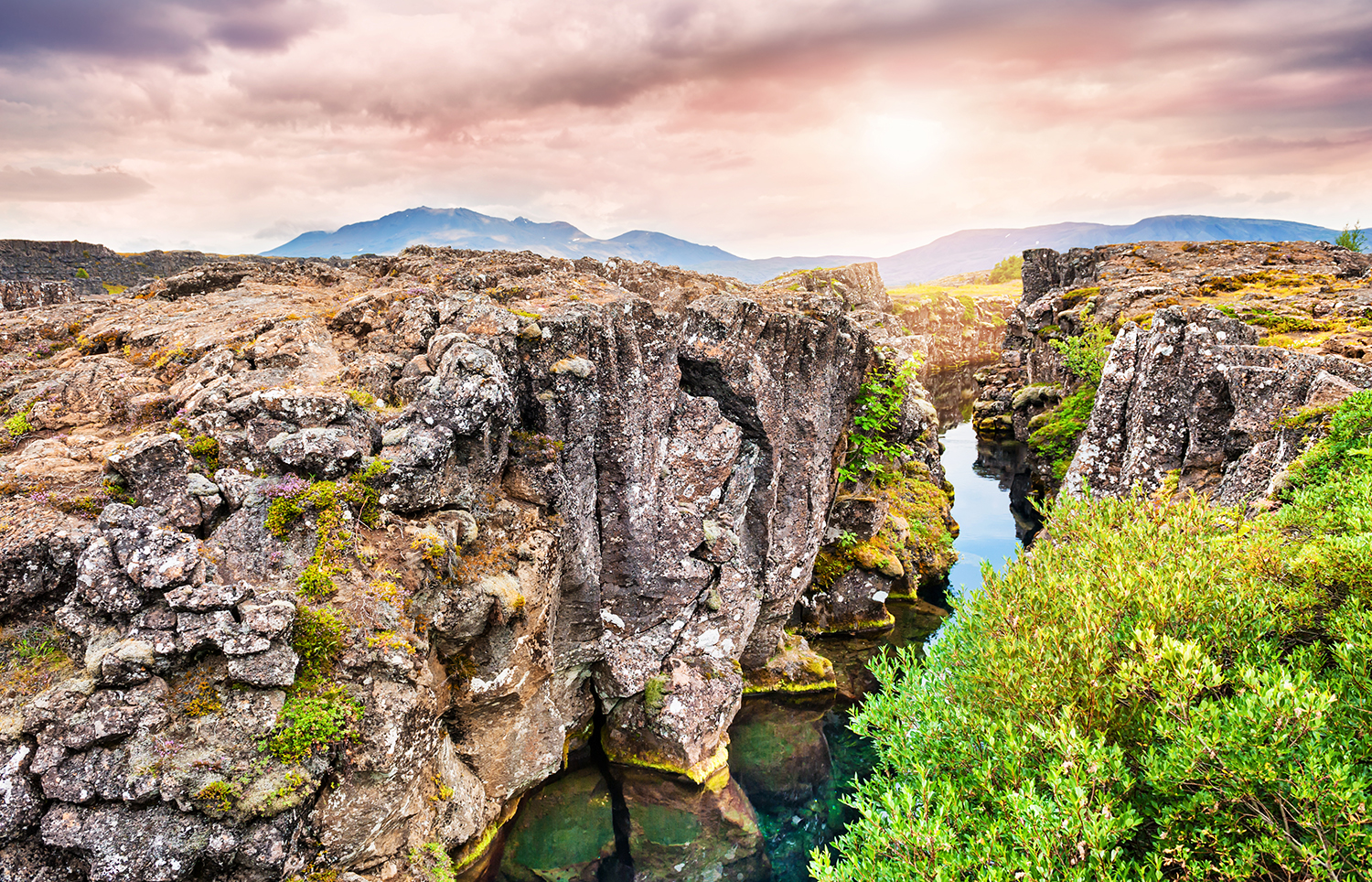 8. Love politics? See the site of the world's oldest continuous parliament at Thingvellir National Park, a meeting place of old Icelandic clans. It's also a place of spectacular natural beauty, and where the Eurasian and North American tectonic plates meet above ground. 
9. Participate in an Icelandic tradition by soaking in an outdoor hot tub. Hot tubs are central to a sense of well-being for many Icelandic people and have been for centuries. 
10. Drink the water! Really. Icelanders are very proud of the purity of their tap water, which comes from the same glacial sources that you'll see all over the island.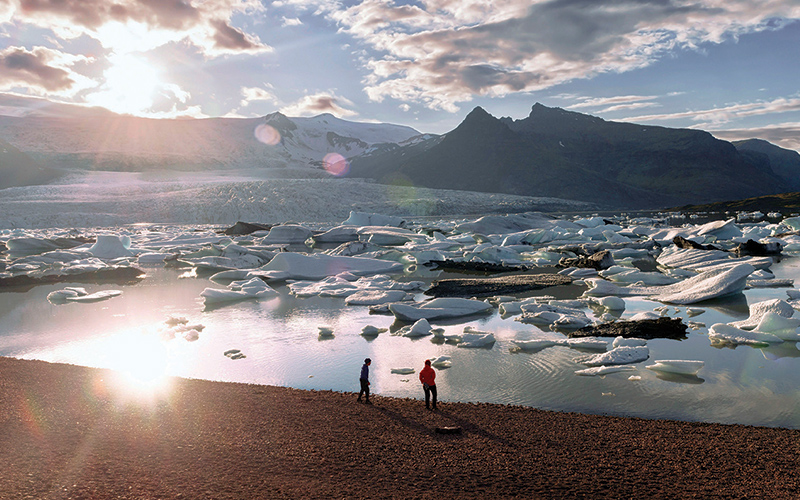 11. See the icebergs dotting the waters of the Jökulsárlón Glacier Lagoon. This ever-changing arrangement of bright blue and white icebergs are left behind by a receding glacier, and the floating chunks of ice are as beautiful as they are fascinating.
12. Get out your camera when you visit Diamond Beach – you'll marvel at glistening natural ice sculptures on the black sands. 
13. Taste some skyr, one of Iceland's most beloved and versatile foods. Similar to yogurt and often served with sugar and milk, skyr is actually made like cheese. Icelanders eat it for breakfast, lunch, and dinner. 
14. Visit the Blue Lagoon for a luxurious soak in the soothing hot waters. On our tours you'll visit the stylish restaurant to enjoy a delicious farewell dinner with your group. 
15. Pop into a book shop. Iceland is a nation of readers. Reykjavik is a UNESCO City of Literature, and a whopping 10% of Icelanders will publish a book in their lifetime.
16. Watch out for Icelandic monster trucks, built to traverse glaciers. These vehicles are loaded with tech and the driver can reduce their huge tires' pressure on the move to deal with the toughest conditions, improving grip and ride. 
17. Go to sleep secure in the knowledge you're not missing a chance to see the Northern Lights! You can ask your hotel for a wake-up call to alert you if the lights are visible after bedtime. 
18. Watch steamy water erupt 60 feet in the air at Strokkur, Iceland's most popular geyser. You'll never have long to wait for the next eruption – it reliably blasts every five to ten minutes.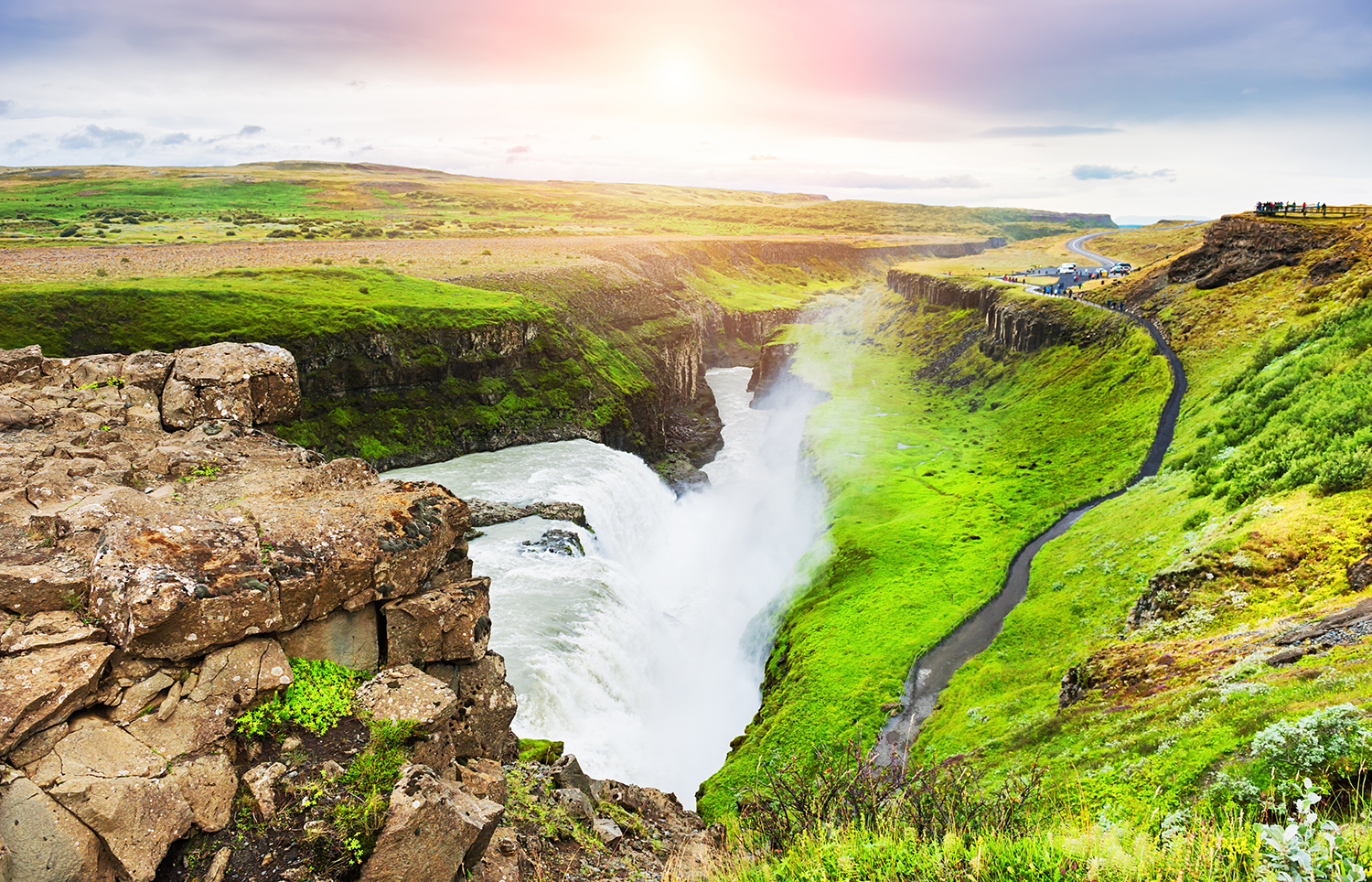 19. Be awed by the splendor and power of Gullfoss Waterfall. This massive, two-tiered waterfall is one of Iceland's most popular sights. And it's different from most waterfalls you might visit in that you'll view it from above, as the water descends into the great crevasse below. On a sunny day, look for rainbows in the mist. 
20. Find the perfect sweater. The traditional Icelandic sweater is called "lopapeysa", and they come in zigzag patterns in natural colors: black, white, grey, beige, and brown. They are handmade from the wool of Icelandic sheep, which is insulating and water-resistant – the perfect layer for a cold climate. Modern designs are also available, with zippers and hoods and in panoramic colors and patterns. 
21. Try a traditional drink. Craft beers are popular in Iceland, rising in prominence since beer became legal in Iceland in 1989. Or try a traditional spirit called Brennivin, with a powerful flavor of caraway.
22. Watch out for elves! Iceland has a rich tradition of folklore, and its Huldufólk, or Hidden People, still get respect. Authorities have diverted roads to avoid disturbing them, and more than 80% of Icelanders refused to deny their existence in a 2007 survey by the University of Iceland. As you go through the countryside, you might spot small elf houses built to honor their presence.