CIE Tours salutes those who serve with a special offer
20% savings throughout May on select Ireland and Britain vacations to say 'thank you' to frontline workers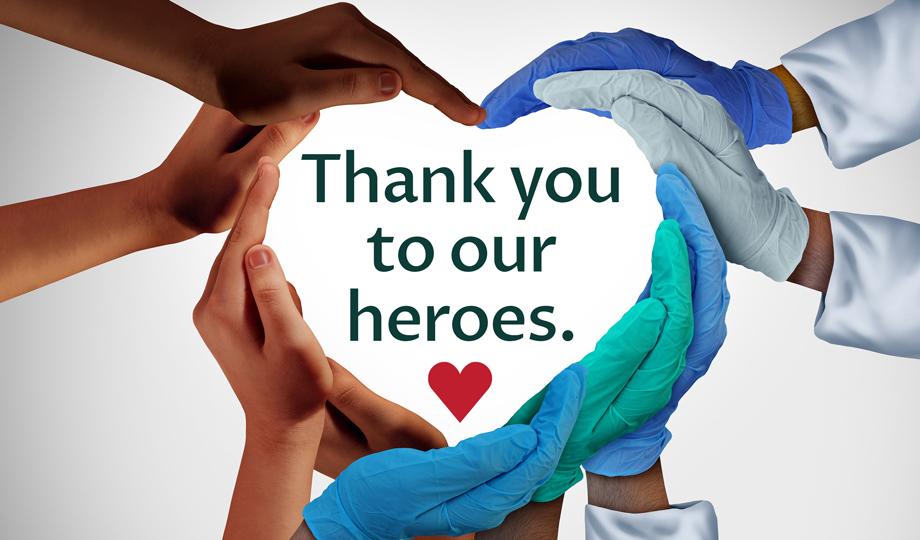 MORRISTOWN, N.J. – April 30, 2021 – CIE Tours today announced special discounts throughout the month of May for frontline service workers.  As thoughts turn to long-postponed vacations, few deserve time off more than those who have been continuing to serve throughout the pandemic.  As a way of saying 'thank you', CIE Tours is offering 20% savings on select 2022 tours to a wide variety of service workers. 
"The past year has given us a renewed appreciation for those who have been on the frontline keeping the country running in a variety of capacities.  Offering a way to help our essential workers enjoy a well-deserved trip lifetime seems like a fitting way to express our gratitude for all they have done to serve our communities during the pandemic", said Elizabeth Crabill, CEO of CIE Tours.  "To all the teachers, firefighters, first responders, military service members, healthcare workers, law enforcement and transit workers who make our world a better and safer place to live and travel, we thank you." 
Since 1932, the Morristown, New Jersey-based company has earned a reputation for excellence that is rooted in its signature Irish hospitality, the genuine warmth and expertise of its guides, and a dedication to taking care of every detail to ensure a stress-free trip.  As the largest North American tour operator sending visitors into Ireland and Scotland with nearly 90 years of continuous operation, CIE Tours has taken more than three million travelers on the vacation of their dreams.  
Those Who Serve 20% off savings are available to all qualified service workers, with 10% off for their companions, for all January - April 2022 departures. The offer applies to a select group of CIE Tours' most popular guided tours across Ireland and Great Britain. 
Ireland 
Each featured Ireland tour can be taken in one of four ways -- as a Guided Coach Tour or Small Group Departure or an Independent Adventure as a self-drive tour or with a private driver/guide. 
Britain 
Scotland/Ireland 
With CIE Tours, travelers can plan, book and travel with confidence.  Guests who make a new booking can modify their travel plans up to 30 days prior to departure*, and for the ultimate flexibility can purchase enhanced travel protection that allows plans to be cancelled for any reason, up until 24 hours in advance.  While on tour they can rest easy that comprehensive health and safety standards are in place to protect their wellbeing.   
This special offer is available for new travel booked from May 1 - 31, 2021. Travelers and travel advisors must book by phone or via online chat and mention promotion code TWS2021 to qualify.  Please note that proof of employment as a member of the military, first responder (law enforcement, firefighters, paramedics and EMTs), healthcare worker, teacher or transit worker is required to qualify for the discount.  For more information, visit https://www.cietours.com/offers/those-who-serve, call 800-243-8687, or connect with a travel professional. 
About CIE Tours  
CIE Tours has been the premier tour operator for Ireland and Britain vacations, earning a reputation for excellence rooted in its signature Irish hospitality since 1932.  Expertly crafted vacations to Ireland, Scotland, England, Wales plus Iceland and Italy suit every travel style and taste - from the camaraderie of coach tours and custom group travel to a variety of independent adventures, small group tours and personalized private driver experiences.   
Having served over three million travelers, CIE has the knowledge and experience to take care of every detail, so travelers can focus on enjoying every moment of their experience. CIE Tours makes it easy for guests to immerse themselves in a new destination with exclusive access, authentic experiences, and in-depth knowledge. The genuine warmth and expertise of its guides and hosts shines through, with guest satisfaction ratings of 95%. Headquartered in Morristown, New Jersey, CIE Tours also has offices in Dublin and London to provide operational support and traveler services in destination. For more information, visit www.CIETours.com.   
*For full terms and conditions visit www.CIETours.com. 
# # # 
Media Contacts: